Cluck Like a Chicken
Do you have to remind your clients users to keep their systems on for maintenance and patching cycles each week? Yes me too, It seems I have to remind them every week before they go home. Do you know how many hours on the phone that would be if I had to call each of my users to whisper "Hey, Don't forget to leave your computers on!" Well you don't have to with the Announce Maintenance Plugin, it can do it for you.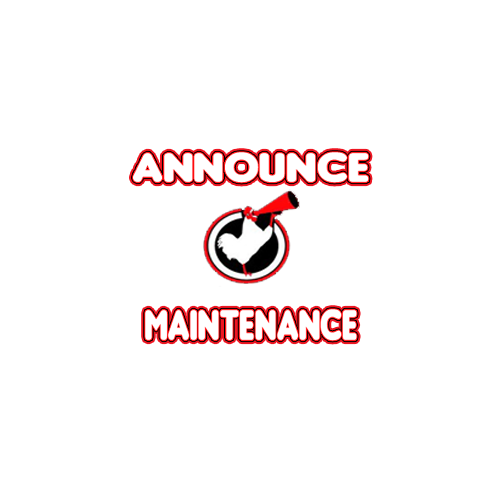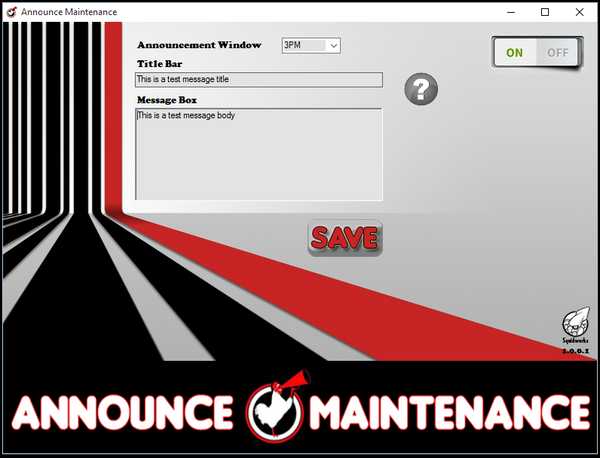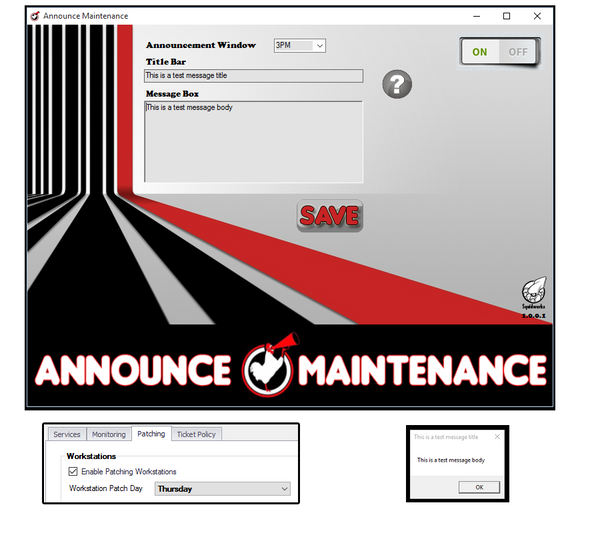 Features
Improves Windows Patching up to 25% MSP wide!
That's correct, connecting with your end users before maintenance cycles improves density. This plugin will send out a Windows popup message with a personal message from your MSP politely asking them to leave their desktops running to allow the critical patching to complete. A simple reminder at the end of the workday to desktop users will pay off with improved patching coverage across your MSP.
In your ConnectWise Automate console main menu select [Tools] menu and slide down to [Announce Maintenance] sub menu. That will launch the configuration manager to allow you to create the message, set the time of day you want it to launch (Window) and the Title of the Message Box. You can then turn it on or off for all clients by selecting the On /Off switch.
The announcement will only run once in or around the set window time (+/- 6 minutes) the "Eve" before the "Workstation Patch Day" and only for Locations that are set to "Enable Patching Workstations" inside of Automate.
If you have your patch day set to Thursday and your Window set to 3PM then on Wednesday Afternoon at 3 PM the announcement will go out to all "online" workstations at that location.
Screenshots
Support
How to install Plugins
Here is a quick how-to install plugins on to a ConnectWise Automate System [Click Here]
So you are having some issues?
You are in the right place, Plugins4Automate is committed to making sure you get the most out of your investment so we have several support options for you
Plugin support comes in 2 flavors, operational and licensing support.
Operational Support can be anything with using a particular plugin inside your MSP's environment. Plugins4Automate's support forums are here to help you find quick answers to your questions. If you are having a problem you can post them here for our team and the community to help you with. Please visit support.plugins4automate.com. When using the support forums, make sure to post any images, logs or other supporting information to help our team assist you. This allows other MSPs that may be having the same issues insight and support from you posts. Also make sure to look over both the forum for your plugin (each has its own) and the general forum which will have support for common issues across any plugin.
License Support issues are handled by direct email, if you feel you have a issue with expired or non functional license subscriptions please send a email directly to Plugins4Automate. One of our team members will gladly work with you to get your license operational.
Need to cancel your subscription?
Click here to Cancel a Subscription