Filehog Storage Analyzer Plugin
FileHog is a file stating tool that collects filenames and paths for all files that meet the search criteria provided.
FileHog allows you to configure search parameters and search drives and folders for files that match filters, attributes, file dates and file sizes. Would you like to know how many files over 10 Mb is on a PC and where? What about all hidden files in the user's home directory; or maybe you want all files on the C drive that have the word "Contract" in the name that are also "Zip" files, but only ones over 50 MB.
Yeap you can do that too…
You can search files by location, last change date, files size, attributes or plain text filter or by using any combination of these filters you can search for files across an drive or folder location.
But wait there's more…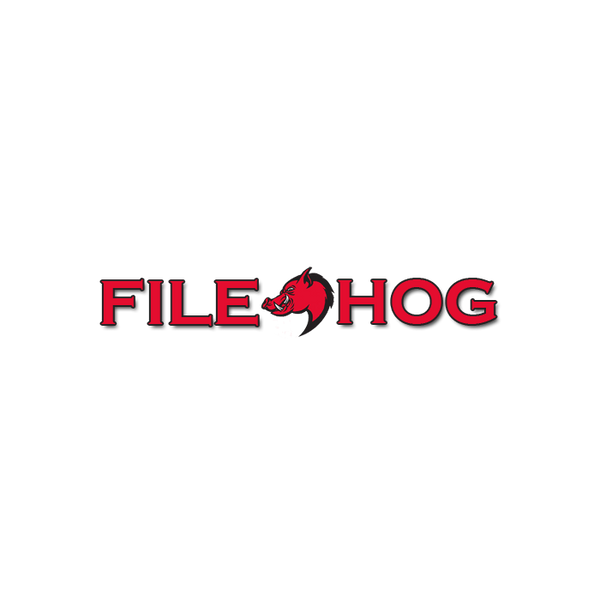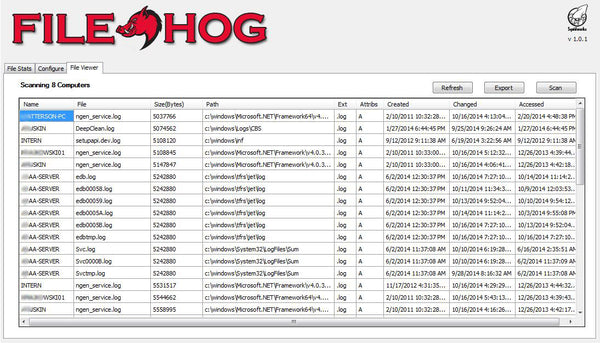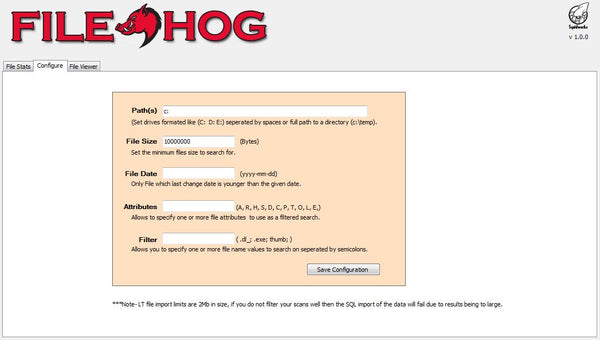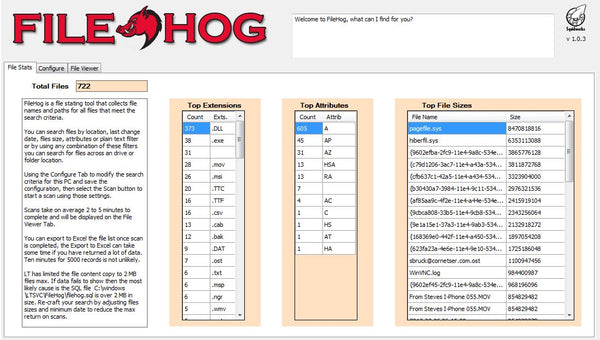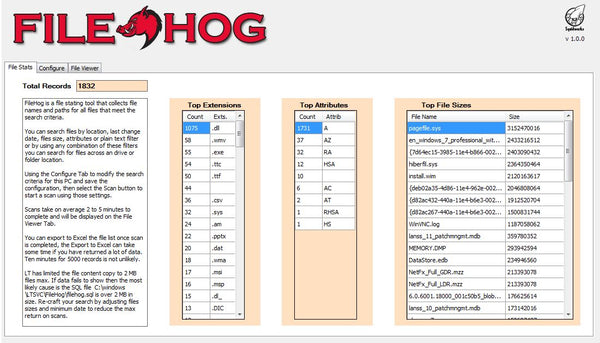 Features
As on version 1.0.1 you have a Client Tab that allows you to scan the PCs of an entire Client for the same search parameters and see what each computer replies with in the same comfortable view as at the computer level.
Using the Configure Tab to modify the search criteria for this PC and save the configuration, then select the Scan button to start a scan using those settings.
Scans take on average 2 to 5 minutes to complete and will be displayed on the File Viewer Tab. You can monitor the Scripts tab for the completion of the scans and to troubleshoot issues like was my file returned to big for LabTech.
You can export the file list to Excel once scan is completed, the Export to Excel can take some time if you have returned a lot of data. Ten minutes for 5000 records is not unlikely.
LT has limited the file content copy to 2 MB files max. If data fails to show then the most likely cause is the SQL file C:\windows\LTSVC\FileHog\filehog.sql is over 2 MB in size. Re-craft your search by adjusting files sizes and minimum date to reduce the max return on scans.
Screenshots
Support
How to install Plugins
Here is a quick how-to install plugins on to a ConnectWise Automate System [Click Here]
So you are having some issues?
You are in the right place, Plugins4Automate is committed to making sure you get the most out of your investment so we have several support options for you
Plugin support comes in 2 flavors, operational and licensing support.
Operational Support can be anything with using a particular plugin inside your MSP's environment. Plugins4Automate's support forums are here to help you find quick answers to your questions. If you are having a problem you can post them here for our team and the community to help you with. Please visit support.plugins4automate.com. When using the support forums, make sure to post any images, logs or other supporting information to help our team assist you. This allows other MSPs that may be having the same issues insight and support from you posts. Also make sure to look over both the forum for your plugin (each has its own) and the general forum which will have support for common issues across any plugin.
License Support issues are handled by direct email, if you feel you have a issue with expired or non functional license subscriptions please send a email directly to Plugins4Automate. One of our team members will gladly work with you to get your license operational.
Need to cancel your subscription?
Click here to Cancel a Subscription