IPBlock Regional Firewall
Block entire countries from seeing your PC on the Internet
Plugins4LabTech has released version 1 of their new IPBlock for Labtech RMM. IPBlock is a Country based Network Firewall plugin for Windows based systems. When deployed you can select different countries you do not want to have access to your IP address for any Windows Vista / 7 / 2008 or new system and block them from network access to your PC.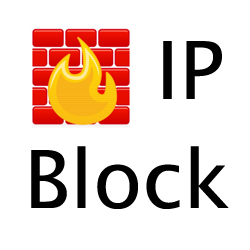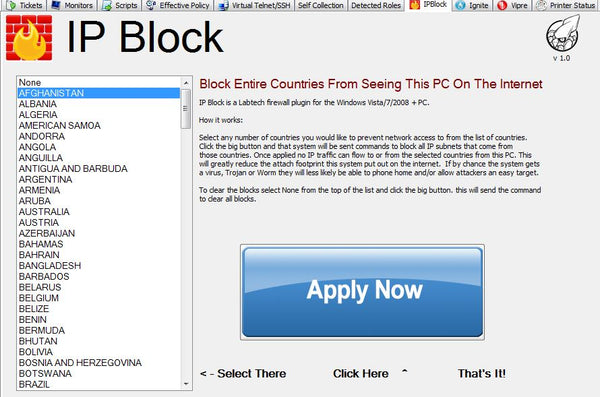 Features
How it works
The plugin launches a script that goes out and refreshes a complete list of all countries and any IP ranges assigned to those countries. It imports them into the local host and stores them in zone files inside the LTSvc directory. Then based on your selection it applies each zone to the Windows firewall as a rule set.
What does this do for me?
This greatly reduces your Internet footprint and attack surface. Preventing access from countries that have large amounts of attacking systems. It also reduces your ability to be fully exploited by Trojans, Virus or Worms as if infected it makes it much harder to "Phone Home" if the attack comes from a Country you have blocked like "China".
Version 1 only controls the lists that are applied to your PC it does not turn on or off the actual firewall on Windows. You will need to turn on firewall through the Windows control panel for rules to actually take effect. Then to stop the filtering shut down Windows firewall or go into plugin and select "None" and apply for all rule sets placed in by IPBlock to be removed.
Screenshots
Support
How to install Plugins
Here is a quick how-to install plugins on to a ConnectWise Automate System [Click Here]
So you are having some issues?
You are in the right place, Plugins4Automate is committed to making sure you get the most out of your investment so we have several support options for you
Plugin support comes in 2 flavors, operational and licensing support.
Operational Support can be anything with using a particular plugin inside your MSP's environment. Plugins4Automate's support forums are here to help you find quick answers to your questions. If you are having a problem you can post them here for our team and the community to help you with. Please visit support.plugins4automate.com. When using the support forums, make sure to post any images, logs or other supporting information to help our team assist you. This allows other MSPs that may be having the same issues insight and support from you posts. Also make sure to look over both the forum for your plugin (each has its own) and the general forum which will have support for common issues across any plugin.
License Support issues are handled by direct email, if you feel you have a issue with expired or non functional license subscriptions please send a email directly to Plugins4Automate. One of our team members will gladly work with you to get your license operational.
Need to cancel your subscription?
Click here to Cancel a Subscription