Office365 For Automate (Monthly Subscription)
Microsoft's Online Azure, Exchange, Licenses and SharePoint services are much easier to manage when your RMM tool knows all about your clients MSOL services. That's why our Office365 plugin provides all the management access you will need in a single application. Launch the Office365 plugin for ConnectWise Automate and you have all that information and full access to MSOL at your fingertips!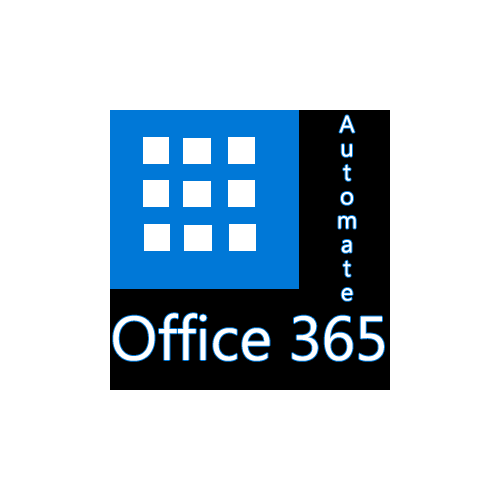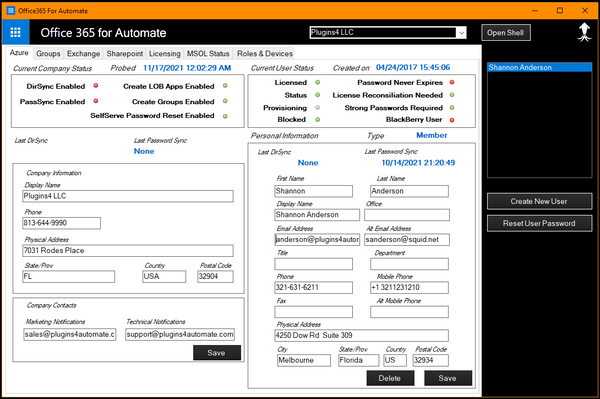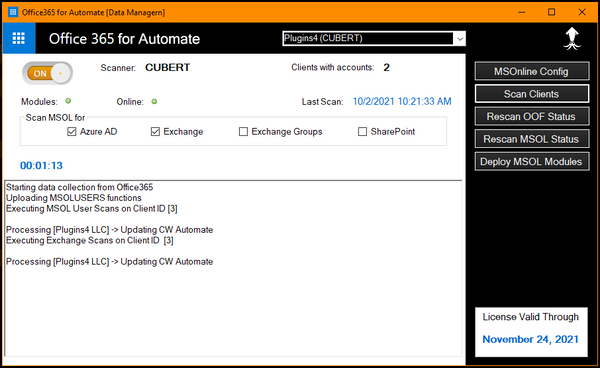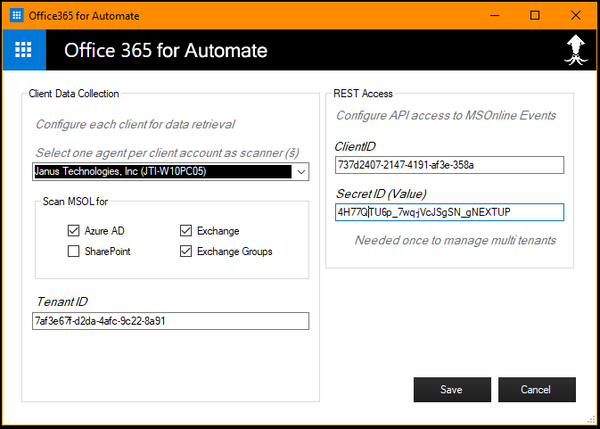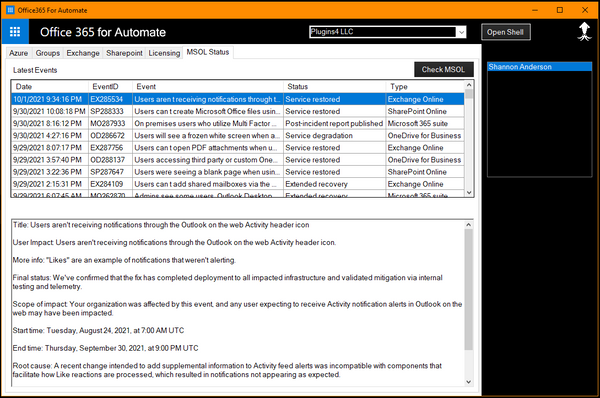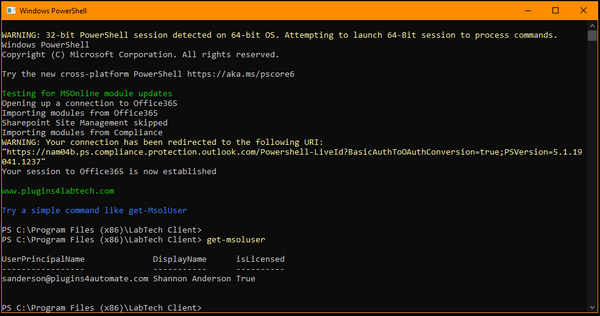 Features
​
Access Office 365 for all your clients in a single pane of glass from inside ConnectWise Automate?
Engineers don't need to keep notes on where the Office 365 access is for each client, the username and passwords need to manage Office365 Online or the company SharePoint URLs. Having information is great, but, the real power comes when you need to manage and adjust users and services quickly. We all know "Time is Money", so getting the job done right and as fast as possible saves your techs time and saves you money. Office365 For Automate connects you to your clients Office365 Services to your RMM platform making one tool for all your management needs.
A simple flat rate monthly subscription fee for unlimited clients with unlimited user's Azure and Exchange accounts. All of your engineers and technicians have access and no limits on management inside your RMM platform.
Azure Active Directory
Need to add a new user or just manage a password change, set a user to never expire or unlock their account, you can perform quick tasks in Office365 directly from your ConnectWise Automate consoles.
MSOL Exchange
Need to add a forwarding address, add a full access permission or maybe convert a users mailbox to shared, set a users out of office reply or see the mailbox stats, with our Exchange integration you have access to Exchange online with just a few clicks inside of ConnectWise Automate.
SharePoint Cloud
Create new sites or manage users and groups for existing sites quickly and easily inside of ConnectWise Automate.
License Management
Manage client licenses for all the different products MSOnline offers inside ConnectWise Automate.
Directly Manage Users in Azure
Manage user and Company contact information, reset passwords and control password policies, block and unblock users, manager Dir Sync and Password Sync.
​
View and Manage User Mailboxes
Enable or disable out of office reply; manage user access to mailboxes ; set Send on Behalf of permissions; convert user mailboxes to shared mailboxes and much more.
Manage Security and Distribution Groups.
Quickly add or delete users from groups and create and delete groups with our groups management tools. Add new groups, add users to groups, remove users from groups and much more.
Manage and create SharePoint services.
Whether you need a new site collection or need to modify an existing SharePoint site, using Office365 for LabTech allows you to quickly manage SharePoint sites across all clients inside of ConnectWise Automate.
Manage User Roles and User Devices
Add and remove users from administrative roles with just a click. Manage the licensed devices registered to each user, enable, disable or remove devices quickly from user accounts.
MSOL Event Status
Stay informed! MSOL statuses keep you informed as to the state of the hosted services Microsoft is providing to your clients. Each client can have different status messages based on location of hosted services and the systems and services affected.
​
Our Holy Grail, The MSOL PowerShell console, Launched from Office365 For Automates single pane of glass, has also been rewritten from the ground up to include module loading management, new command-lets and a clean look. If you are one for shells then this makes it easy to launch a PowerShell console for access to any clients data directly from your workstations (no login information required). Run commands and scripts directly from the shell accessing all the MSOL services the client is entitled to as the tenant admin.
​
Setup, Troubleshooting issues and manual updates are made easy with an interactive control panel and client probe configuration editor. Our improved scanning services have been redesigned from the ground up to be quicker, less error prone and less taxing on any one agent or service. With our distributed data collection services the effort of collecting data from MSOnline much quicker. Modules now auto deploy with assigned probes and checked every run for updates keeping MSOnline modules current effortlessly.
​
Each client now is identified not only by credentials used but by Tenant IDs. The addition of this feature to the ConnectWise Automate Office365 Manager plugin allows for support of many new features available at MSOnline and Office365.com. Look for new and improved tool as we expand the Office365 plugin out to reach for more access.
Screenshots
Videos
Quick Client Setup Demo
This first demo runs through the basics pretty quickly to show you what is needed to get a client configured for management. Each client should first have a Office365 Account placed under the Client console's -> Password Tab. It must be named
"Office365"
for the plugin to pick it up. You must setup one agent for each client as a data probe that queries MSOL for client data. Automate will start the data collection on the next cycle but you can use the command console controls to manually scan for data to seed the Automate database.
MSOnline Powershell Management Shell
This demo shows how quickly you can setup a client to be able to use the MSOnline PowerShell management console. As long as the client has their Office365 password account setup in the client console the shell is available. Just launch the office365 plugin, select the client to manage and select the Open Shell button.
In the above video the MSOnline PowerShell Management console showed a error in red during the call to connect the SharePoint domain URL we provided in the URL field or the Client Passwords for Office365. This URL was fake so we incurred an error when trying to access it. In the below video you will see us remove this URL from our Office365 passwords entry and then our shell no longer errors during that process.
Support
How to install Plugins
Here is a quick how-to install plugins on to a ConnectWise Automate System [Click Here]
So you are having some issues?
You are in the right place, Plugins4Automate is committed to making sure you get the most out of your investment so we have several support options for you
Goto Office365 for Automate Support Forums
Plugin support comes in 2 flavors, operational and licensing support.
Operational Support can be anything with using a particular plugin inside your MSP's environment. Plugins4Automate's support forums are here to help you find quick answers to your questions. If you are having a problem you can post them here for our team and the community to help you with. Please visitsupport.plugins4automate.com. When using the support forums, make sure to post any images, logs or other supporting information to help our team assist you. This allows other MSPs that may be having the same issues insight and support from you posts. Also make sure to look over both the forum for your plugin (each has its own) and the general forum which will have support for common issues across any plugin.
License Support issues are handled by direct email, if you feel you have a issue with expired or non functional license subscriptions please send a email directly toPlugins4Automate. One of our team members will gladly work with you to get your license operational.
Need to cancel your subscription?
Click here to Cancel a Subscription