PowerShell Command Manager (per month)
PowerShell for Automate plugin allows you to maintain a library of scripts and commands to be used to run on the remote computers under the MSPs management. You no longer need to remote into a server or workstation to run PowerShell commands or complex script against that system. Monitor and maintain consistent PowerShell and Dot.NET versions across all clients under management with automated tool available to you within the plugin.
The plugin now supports Powershell for Linux and MAC agents. Plugin supports through Powershell 7
Supports Automate 12, Labtech 11,10.5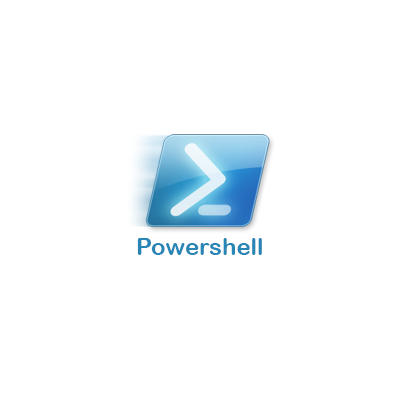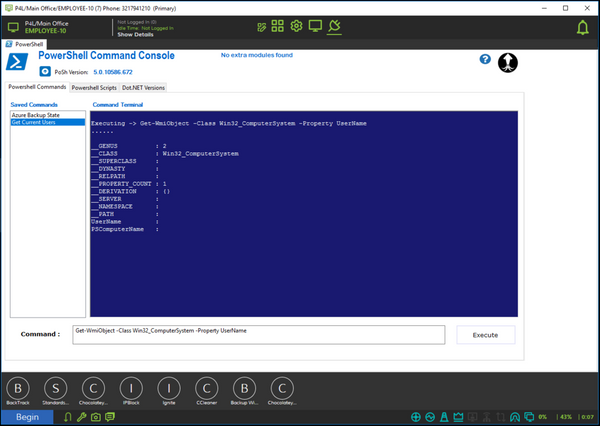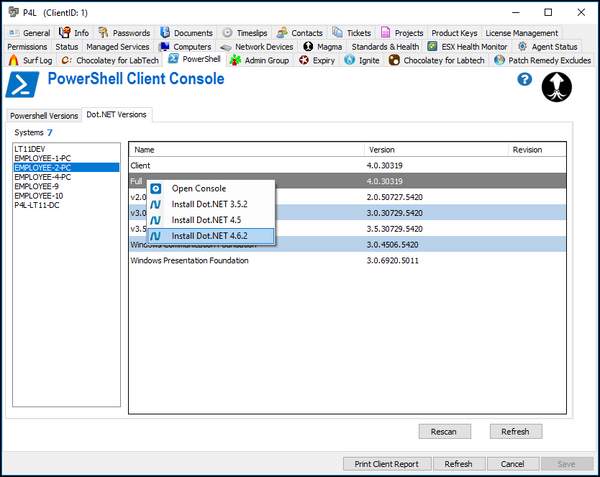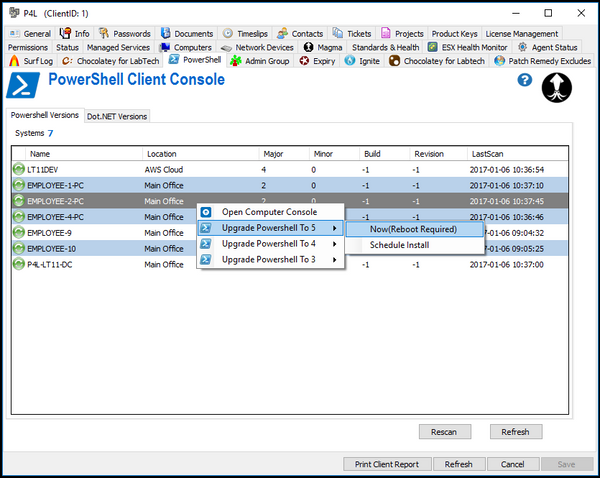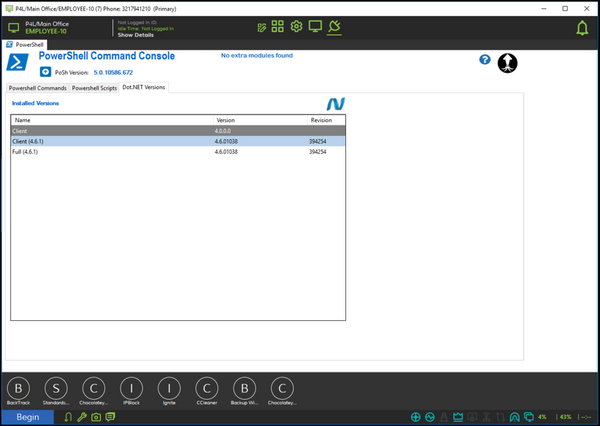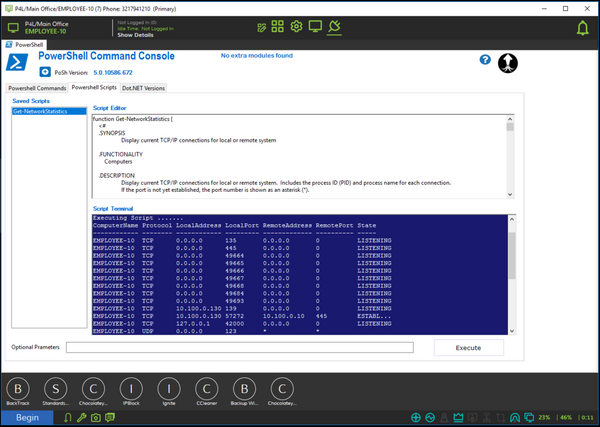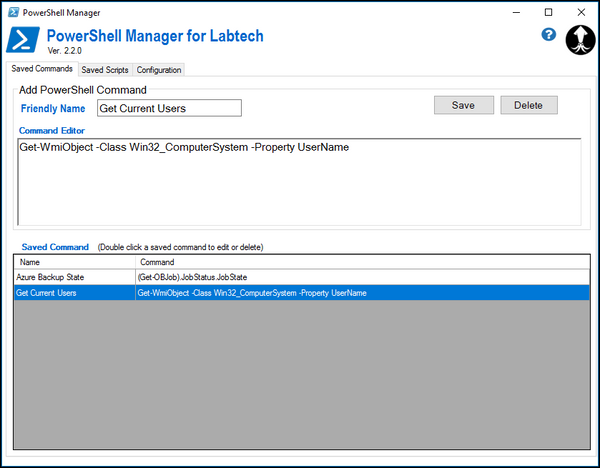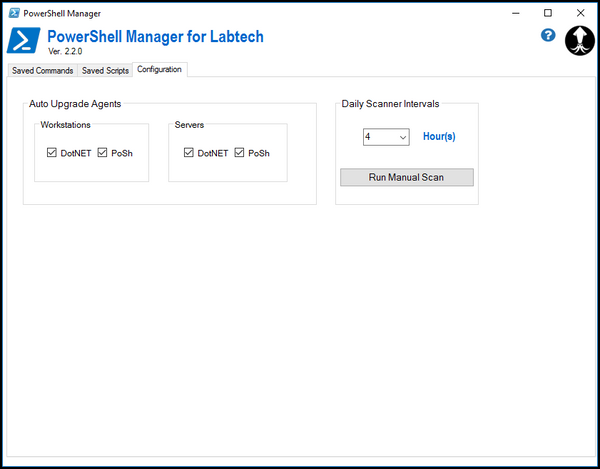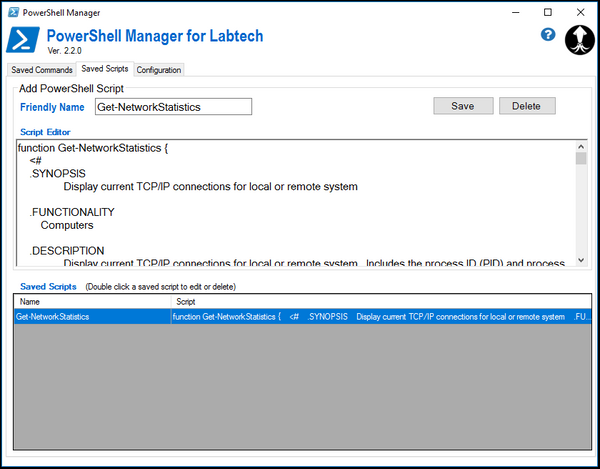 Features
PowerShell Command Manager
Save and execute complex PowerShell commands and scripts with just a mouse click. There is no need to try and remember hundreds of PowerShell commands or scripts you have crafted, with PowerShell Command Manager you are able to create and save these little jewels so your entire team can use them on any PC console inside of LabTech. Make quick and easy work of managing your scripts and commands library when using the scripts and commands editors.
(Available on the [View] menu of your LT console.)
Commands Library
Scripts Library
Save complex scripts to the scripts library, use optional parameters that can be passed at runtime.
Configuration and Automation Controls
Automate the installs and upgrade of Dot.NET and PowerShell. You will find EDFs that will control which agents are enabled for automated installs at the Client, Location and Agent consoles. Allow or prevent installs of PowerShell and Dot.NET at any level the agents are in.
PoSh Computer Console
Utilize commands and scripts you saved from the library to execute at the computer agent. Type or copy in any command or script to the console and run those commands without saving them when you just need to get something executed. See the output of your scripts and commands just like you would in a standard PowerShell console.
Executing Commands
Executing Scripts
You can script optional parameters into scripts when saving to the library and then using the optional parameters field in this view to pass options at runtime.
Manage Versions Manually
Controls are available to manually upgrade both PowerShell and Dot.NET to the current supported versions from this screen.
PoSh Versions Manager
Open the Client console to access the PowerShell and Dot.NET version manager. Here you can see just where the PowerShell versions are across the client. Update PoSh with just a click of the menu. Select from doing a forced install of PowerShell instantly or schedule the install into the future quickly and easily.
Install Dot.NET
Select a system from the list to view it's installed Dot.NET versions. Click any version to pull up a menu to install Dot.NET versions you like.
As you can see the PowerShell Manager for LabTech has a lot of great tools inside to help you manage PowerShell and to keep your clients current and consistent. Making sure your clients PCs all share the same PowerShell and Dot.Net versions means that you will see a more consistent execution of application that use PowerShell and or Dot.NEt frameworks across the MSP and that calculates to less calls to the helpdesk for application support.
Screenshots
Videos
Support
How to install Plugins
Here is a quick how-to install plugins on to a ConnectWise Automate System [Click Here]
So you are having some issues?
You are in the right place, Plugins4Automate is committed to making sure you get the most out of your investment so we have several support options for you
Plugin support comes in 2 flavors, operational and licensing support.
Operational Support can be anything with using a particular plugin inside your MSP's environment. Plugins4Automate's support forums are here to help you find quick answers to your questions. If you are having a problem you can post them here for our team and the community to help you with. Please visit support.plugins4automate.com. When using the support forums, make sure to post any images, logs or other supporting information to help our team assist you. This allows other MSPs that may be having the same issues insight and support from you posts. Also make sure to look over both the forum for your plugin (each has its own) and the general forum which will have support for common issues across any plugin.
License Support issues are handled by direct email, if you feel you have a issue with expired or non functional license subscriptions please send a email directly to Plugins4Automate. One of our team members will gladly work with you to get your license operational.
Need to cancel your subscription?
Click here to Cancel a Subscription