VMWare ESX Health Monitor License
Plugins4Automates's VMWare Health Monitor plugin for ConnectWise Automate is a monthly subscription service that communicates with a unlimited number of VMware ESX hosts retrieving the CIM data for the hardware the ESX host is running on. The plugin processes this data and stores it the Automate database to be used in the views and alarms the plugin issues when failures are seen. You will see data on everything from RAID arrays and SCSI controllers to Power Supplies failures and system overheats. If the hardware is reporting it to VMWare we can see it.
Supports ConnectWise Automate 20+
This plugin is a monthly subscription service that covers 1 Automate host with unlimited ESX hosts being able to be managed.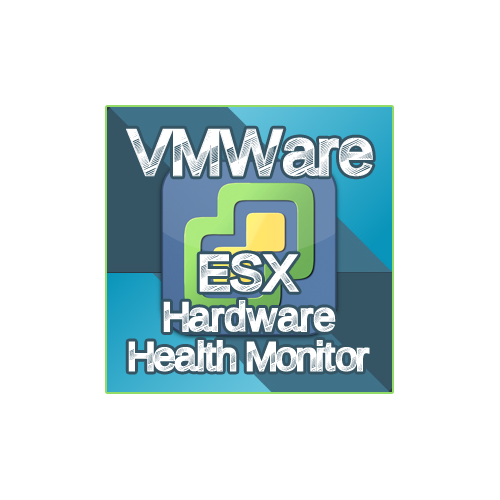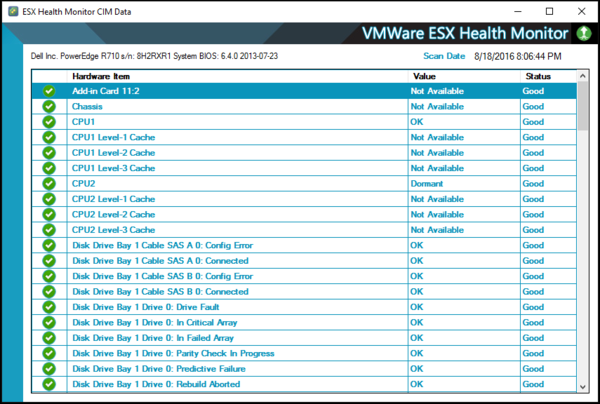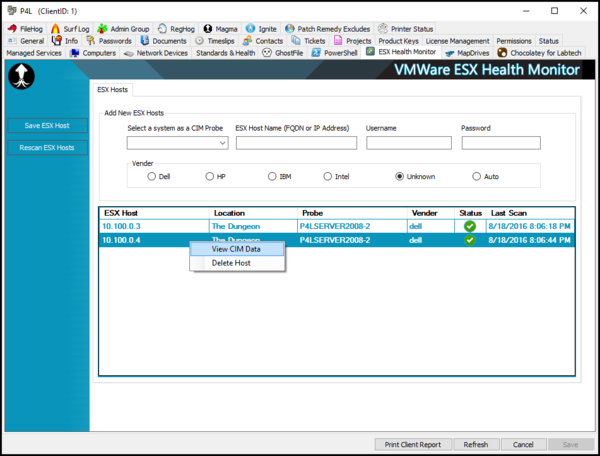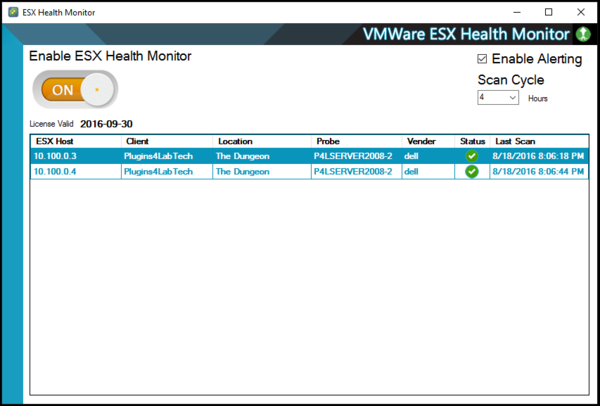 Features
​
Monitor Unlimited ESX Hosts Per Month with ConnectWise Automate!
Main View Menu
The main view lets you see all the ESX hosts under management sorted by Client. In this view you are able to turn on and off the collection of data, set the interval of how often the data is collected and enable alerting for any seen failures.
Client Console Tab
The Client Console tab is where you would add and delete the ESX Hosts you want to monitor. You are able to force the update of ESX CIM data by selecting to rescan ESX hosts and you can view the full CIM data list of any ESX Host.
Cim Data View
The CIM Data view shows all the collected CIM data on a given ESX host. If any data is in a state not considered ok then those lines will be represented with warning and alarming icons. You will also get the hardware manufactures data back and in the case of Dell that is the Hardware type and Service Tag.
Internal Alert Agent
Under the main view you can select to enable alerts. When you do this agent is created in the internal monitors of LabTech. You can use this monitor to email, ticket, alert or message anyone when failures are picked up.
A simple plugin all self contained and easy to deploy. Just a few clicks to configure and you have data. So easy to use anyone can setup and have it working in just a few minutes.
Screenshots
Videos
Support
Quickstart Guide - VMWare ESX Health Monitor
How to install Plugins
Here is a quick how-to install plugins on to a ConnectWise Automate System [Click Here]
So you are having some issues?
You are in the right place, Plugins4Automate is committed to making sure you get the most out of your investment so we have several support options for you
Plugin support comes in 2 flavors, operational and licensing support.
Operational Support can be anything with using a particular plugin inside your MSP's environment. Plugins4Automate's support forums are here to help you find quick answers to your questions. If you are having a problem you can post them here for our team and the community to help you with. Please visit support.plugins4automate.com. When using the support forums, make sure to post any images, logs or other supporting information to help our team assist you. This allows other MSPs that may be having the same issues insight and support from you posts. Also make sure to look over both the forum for your plugin (each has its own) and the general forum which will have support for common issues across any plugin.
License Support issues are handled by direct email, if you feel you have a issue with expired or non functional license subscriptions please send a email directly to Plugins4Automate. One of our team members will gladly work with you to get your license operational.
Need to cancel your subscription?
Click here to Cancel a Subscription