Chocolatey For Automate Agent License (Unlimited Agents)
Unlimited agents for one small monthly subscription fee!
Plugins4Automate has harnessed the power of Chocolatey and brought it into the ConnectWise Automate RMM platform. This allows MSPs to control mass amounts of Windows systems and software applications in a very simple to use interface. In fact, managing software applications could not be easier when using the Chocolatey For Automate.
We solve the dreaded 429 error you get with using the Chocolatey Public Repositories. With new source management and automated UNC caching, Chocolatey For Automate can deliver packages consistently to the MSP's client base.
Chocolatey For Automate 3.6 is now optimized for ConnectWise Automate Groups and Searches automation, increasing the reliability and optimization of the Automate host and delivering more consistent results.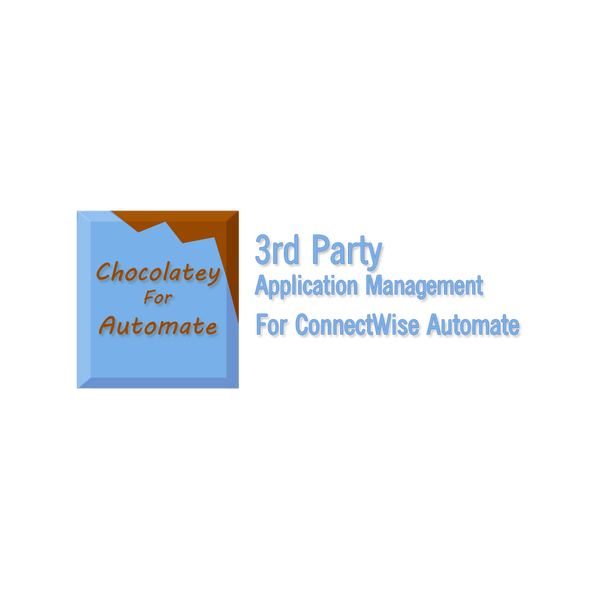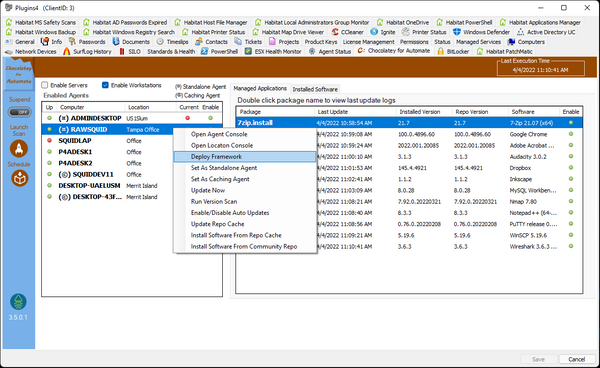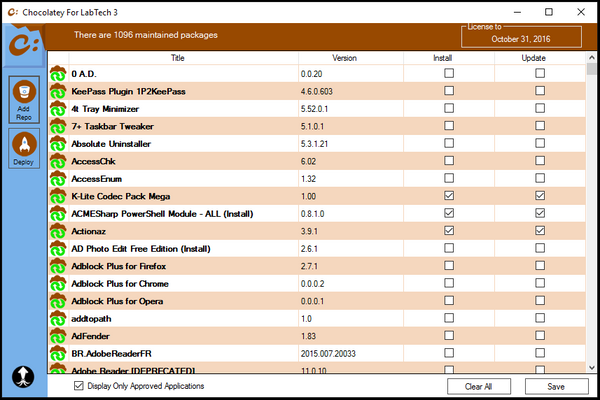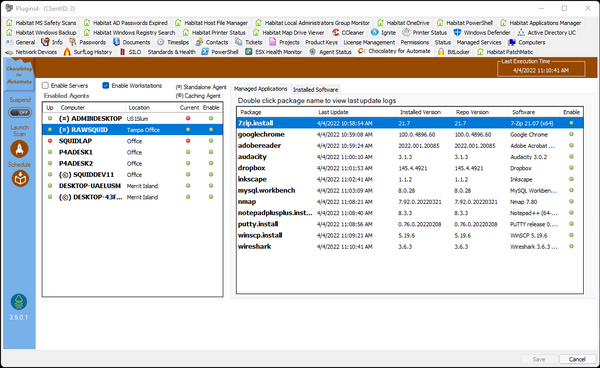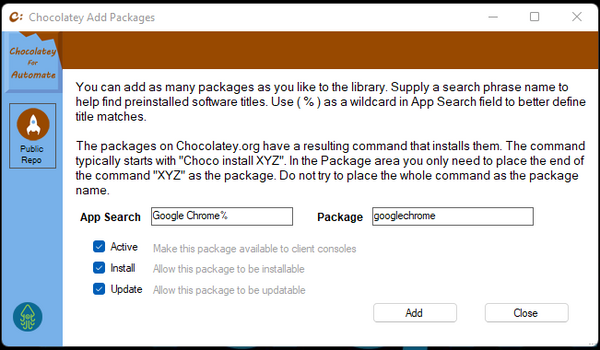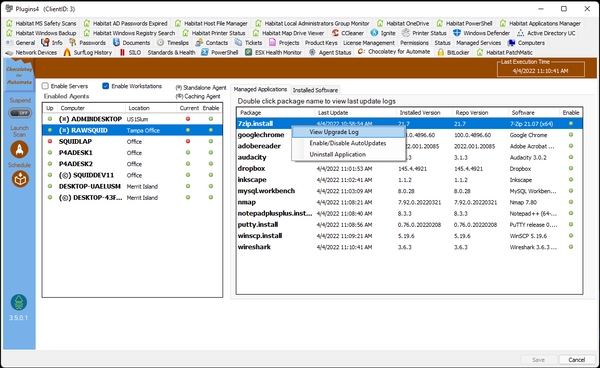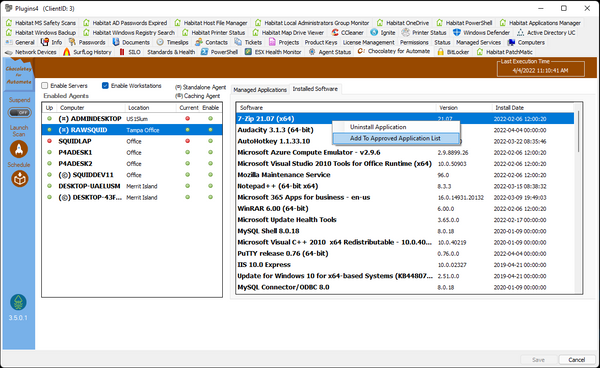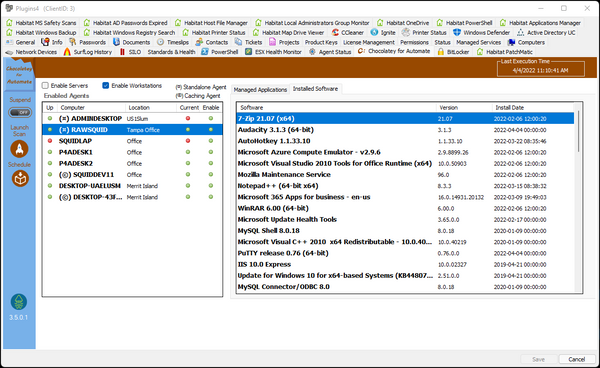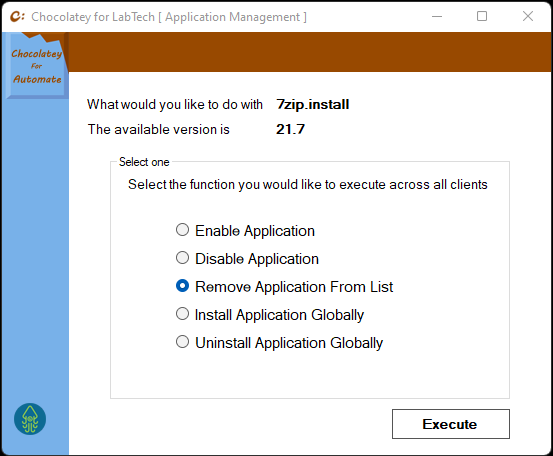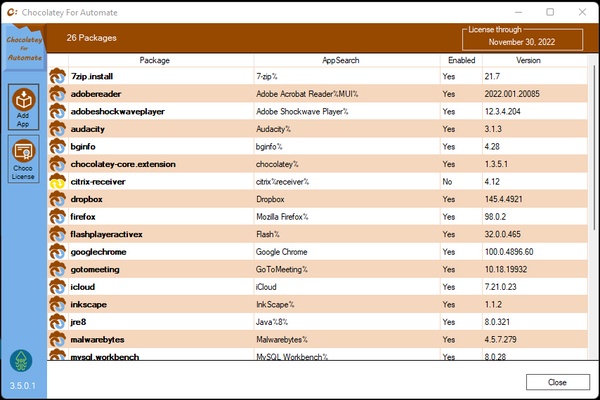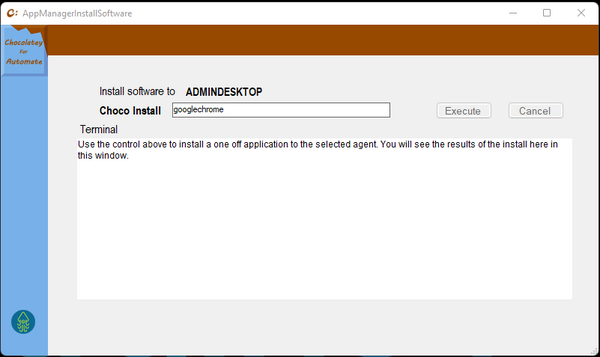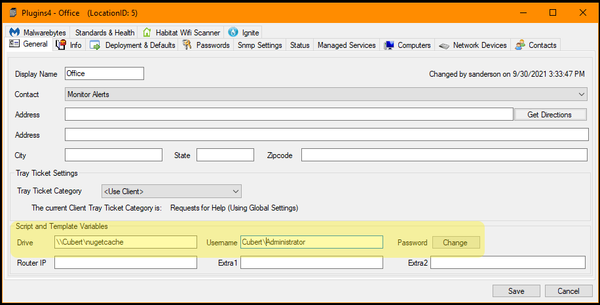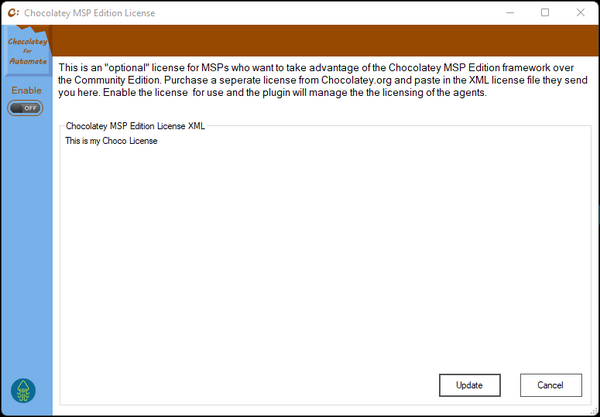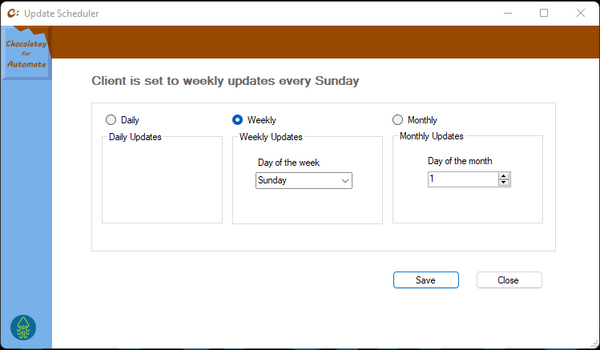 Features
The Chocolatey Plugin for Automate
Plugins4Automate has harnessed the power of Chocolatey and brought it into the ConnectWise Automate RMM platform. This allows MSPs to control mass amounts of Windows systems and software applications in a very simple to use interface. In fact, managing software applications could not be easier when using the Chocolatey For Automate.
Want even deeper integration with Chocolatey MSP Edition as a add-on to this plugin. Visit Chocolatey.Org for the optional upgrade to Chocolatey MSP edition and get even more out of the Chocolatey For Automate plugin. This however is not required to get a full set of features out of Chocolatey.
Chocolatey is a package manager for Windows (like apt-get or yum ,but, for Windows). It was designed to be a decentralized framework for quickly installing applications and tools that you need. It is built on the NuGet infrastructure currently using PowerShell as its' focus for delivering packages from the repositories to your computer. Chocolatey is like apt-get, but built with Windows in mind (there are differences and limitations). For those unfamiliar with APT/Debian, think about Chocolatey as a global silent installer for applications and tools. It can also do configuration tasks and anything that you can do with PowerShell. The power you hold with a tool like Chocolatey is only limited by your imagination! Chocolatey is the brainchild of Rob Reynolds, a passionate developer and technology guru.
How is Chocolatey different than Ninite?
Great question, see Chocolatey vs Ninite.
Microsoft out of the box support for Chocolatey?
That's right, Microsoft OneGet uses Chocolatey , see Windows PowerShell OneGet.
Chocolatey For Automate 3.6
Chocolatey for Automate is a software package manager for Windows that allows the MSP or Management team to deploy and update common software titles across the RMM without the need for daily management of the tool.
Once a client is enabled and configured, Chocolatey for automate will automate the deployment of Chocolatey across the environment, manage all repository sources configure, auto install approved software if configured to do so and update any packages managed by Chocolatey whether natively installed or managed through Chocolatey for Automate.
You can use the plugin to manually install any package available and to process updates allowing the engineer quick access to deploying needed tools and updates to the agent without disturbing the customer and user of the PC.
New in Chocolatey for Automate 3.6
One of the new items in Chocolatey for Automate 3.6 is a redesign of the automation services. In previous versions the Automation was tied into Automation Sync Services which at times could load down Automate as it tries processing thousands of script schedule requests. In Chocolatey for Automate 3.6 most of the agent automation has been moved over to Automate Groups and Searches. Plugins4Automate provides Automate with a selection of Groups that use Auto Join Searches to collect and manage framework deployment, approved application installs, Source and UNC cache management. As agents join these groups during automation cycles, they groups will assign a smaller script to manage that function.
Schedule daily, weekly or monthly updates to best fit your maintenance schedules. Plugins4Automate has updated the provided "Approved packages" list to include the most common Chocolatey extensions. Preinstalling these extensions allows the agent to have the needed dependencies that packages like Google Chrome will require to complete installs and or updates.
Global Manager
The global manager come pre populated with the most common software titles found in your environment. There are thousands of software titles you can add to the Chocolatey For Automate plugin.
​
Client Management Console
The client management console allows the MSP to enable the client for management and to control the agents and software titles deployed to the client.
​
Agent Menu
Selecting an agent from the agent list allows the MSP to preform several tasks on the agent including scanning, installing and updating software.
Getting to know your groups.
Under your Groups tab in Automate, you will find the Chocolatey for Automate group. This top-level group manages the daily packages validations collected from each agent. Under this group are several subgroups. Each of these subgroups manages a function. Agents will come and go from groups as they navigate through all the different processes needed to provide the agent with updates on a regular basis.
Managing Sources
By default, all Chocolatey agents will use the public repository. You can choose to also include other repositories like your own caching repository or simple UNC shares.
Avoid Rate Limiting from Public Repo
By default, the Chocolatey For Automate uses the Chocolatey Framework as it is installed. This means that any packages installed or updated will originate from the default community repository. For large locations where many agents come out from 1 network address this could cause you some issues actually getting agents software deployed or updated.
Avoid Rate Limiting from Chocolatey.org
Chocolatey.org has strict rate-limiting policies, which means you may start receiving that dreaded "429 error" in the middle of deploying or upgrade packages from agents at locations that have reached these limits.
We have 2 ways to avoid the 429 issue
UNC Cache Share
This solution is managed by client location, creates a simple UNC share on the local network that you can point agents to retrieve Chocolatey package manifests. Set a caching master for each location to handle making sure the cache is kept up to date. Only the caching agent will communicate with the public repo preventing the dreaded 429 errors. Manage the UNC path and permissions under the Drive variables provided in the ConnectWise Automate Location consoles.
Run a $7 cloud caching server for your entire MSP (all clients)
Take a look at our "Create your own Chocolatey Caching Host" document included in plugin zip package. This makes caching quick and easy, add the new source to the plugin and let the client consoles know to use sources. We will take care of the rest by deploying that source out to each agent. When an agent is told to install or update a package, it will first go to the cache server to get package manifest.

Chocolatey For Automate Makes It Easy To Avoid The Chocolatey 429 issue!
Screenshots
Videos
***Note*** - Chocolatey MSP License files are optional and are not required for plugin to fully operate as designed.
Support
How to install Plugins
Here is a quick how-to install plugins on to a ConnectWise Automate System [Click Here]
So you are having some issues?
You are in the right place, Plugins4Automate is committed to making sure you get the most out of your investment so we have several support options for you.
Plugin support comes in 2 flavors, operational and licensing support.
Operational Support can be anything with using a particular plugin inside your MSP's environment. Plugins4Automate's support forums are here to help you find quick answers to your questions. If you are having a problem you can post them here for our team and the community to help you with. Please visit support.plugins4automate.com. When using the support forums, make sure to post any images, logs or other supporting information to help our team assist you. This allows other MSPs that may be having the same issues insight and support from you posts. Also make sure to look over both the forum for your plugin (each has its own) and the general forum which will have support for common issues across any plugin.
License Support issues are handled by direct email, if you feel you have a issue with expired or non functional license subscriptions please send a email directly to Plugins4Automate. One of our team members will gladly work with you to get your license operational.
Need to cancel your subscription?
Click here to Cancel a Subscription