SurfLog For ConnectWise Automate (Monthly Subscription)
SurfLog is a tool that reports on the browsing usage of Windows Users across your ConnectWise Automate RMM environment. We capture metrics on data like what browsers are used, hourly activity and top sites visited. Bring value to your customers by providing user metrics and browsing data to reports and Human Resources.
Supports ConnectWise Automate 2020+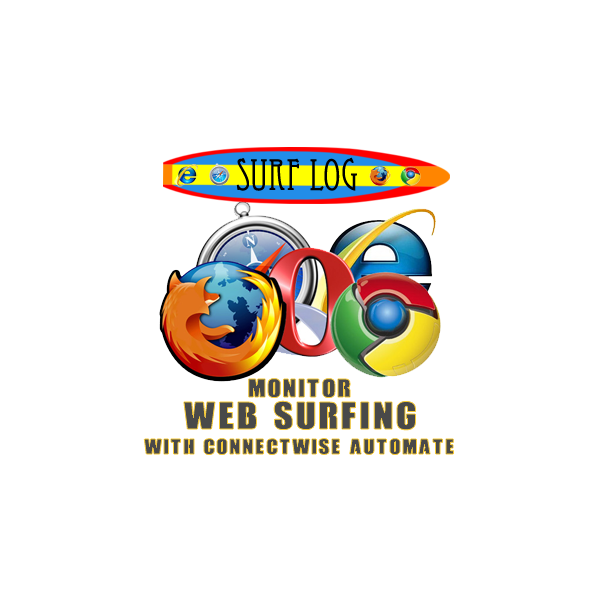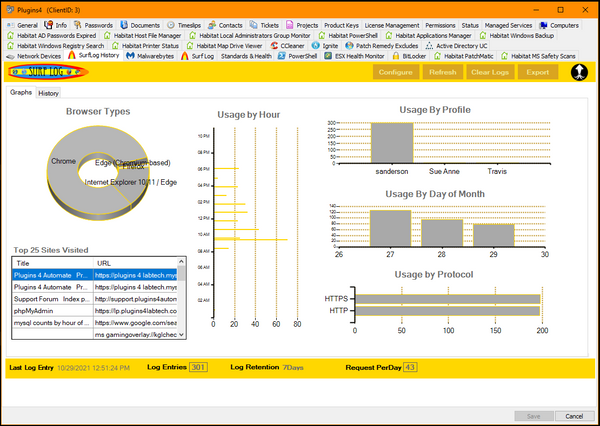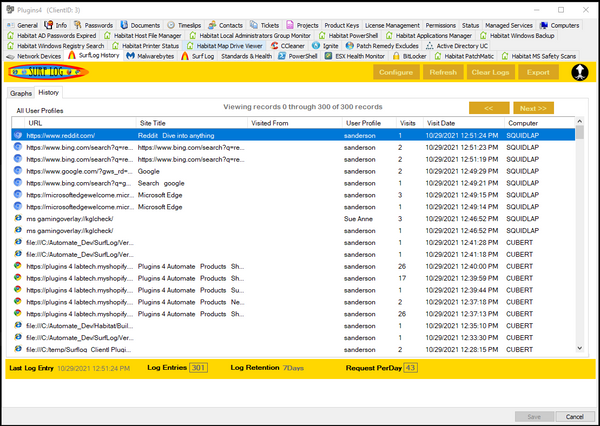 Features
Provide Browsing Metrics to Your Clients
Wasting time at work is one of the most important challenges companies face, and it is costing businesses each year. Monitoring internet usage is not just about stopping inappropriate content or downloads, it is also about managers being empowered to drive better results within their department through focus and productivity of their teams.

Bring value to your customers by providing user metrics and browsing data to reports and Human Resources.
Graphs and Charts
Visual representation of mass amounts of data is key to managing the ebb and flow of users browsing patterns.
Transfer Data
Getting data from your SurfLog Tool to other applications is as easy as exporting it to Excel
Automation
Enable a client and away SurfLog goes. Fully automated collection of data and you control the frequency. You can turn on or off clients and agents under clients for those clients or agents that should not be reported on.
Powerful Metrics
Get both Client Console and Agent Console views in to the browsing patterns of each client under management. Understanding how the internet usage is distributed and the peek times for usage can assist your management and maintenance tasks.
Maintain a log of activity for up to 90 days internally to ConnectWise Automate. Export the client or agent activity to CSV and maintain data for as long as you like.
Screenshots
Support
How to install Plugins
Here is a quick how-to install plugins on to a ConnectWise Automate System [Click Here]
So you are having some issues?
You are in the right place, Plugins4Automate is committed to making sure you get the most out of your investment so we have several support options for you
Plugin support comes in 2 flavors, operational and licensing support.
Operational Support can be anything with using a particular plugin inside your MSP's environment. Plugins4Automate's support forums are here to help you find quick answers to your questions. If you are having a problem you can post them here for our team and the community to help you with. Please visit support.plugins4automate.com. When using the support forums, make sure to post any images, logs or other supporting information to help our team assist you. This allows other MSPs that may be having the same issues insight and support from you posts. Also make sure to look over both the forum for your plugin (each has its own) and the general forum which will have support for common issues across any plugin.
License Support issues are handled by direct email, if you feel you have a issue with expired or non functional license subscriptions please send a email directly to Plugins4Automate. One of our team members will gladly work with you to get your license operational.
Need to cancel your subscription?
Click here to Cancel a Subscription