Habitat for ConnectWise Automate
Habitat is a toolbox for ConnectWise Automate. Plugins4Automate developers are continuously creating new tools for the Habitat toolbox. Anytime our engineers hear of a problem or hardship from a MSP we jump into action looking for a way to ease the pains of MSP's management over large scale deployments.
The Habitat toolbox is a monthly subscription service that provides automatic additions and updates on a regular interval.
This plugin is designed for Automate 12+ and hosted or on-prem RMM environments.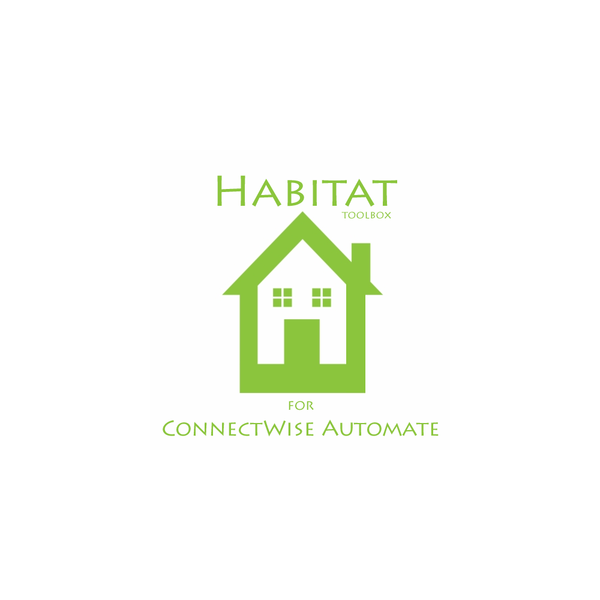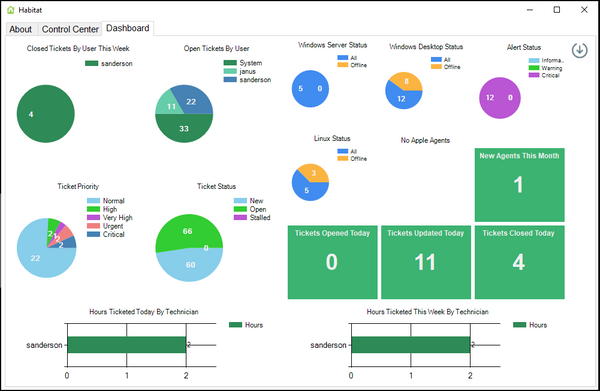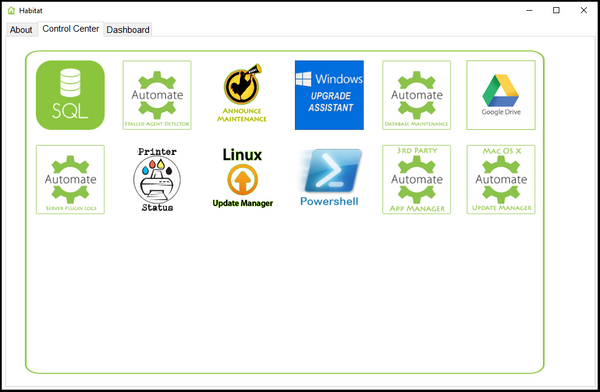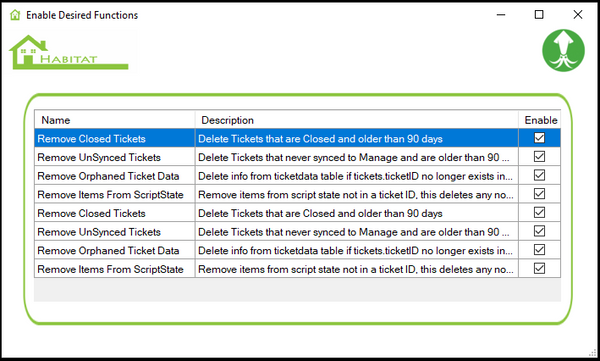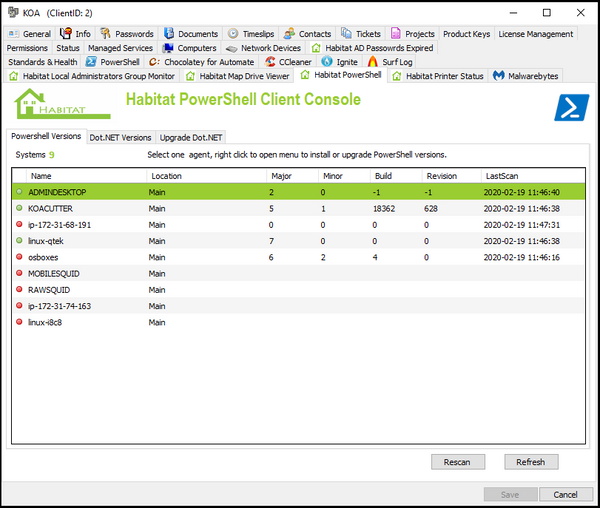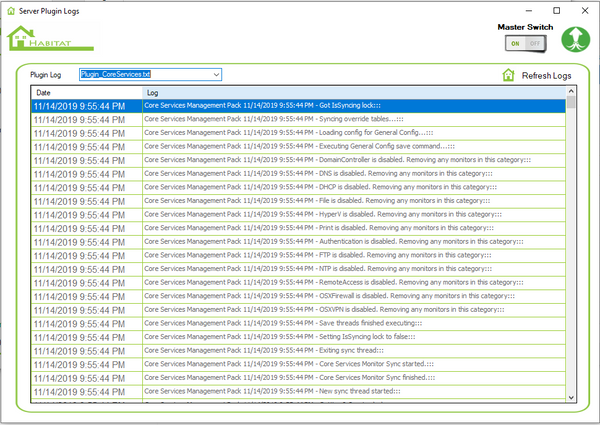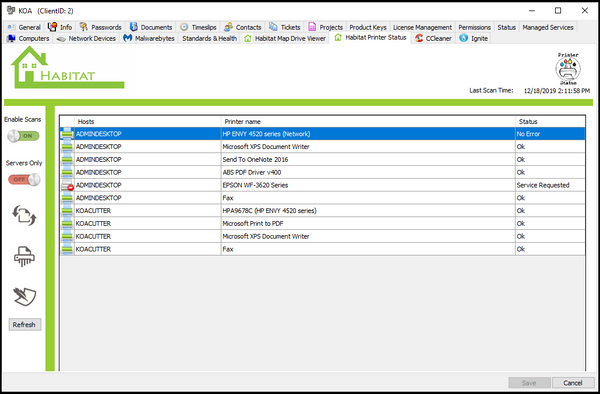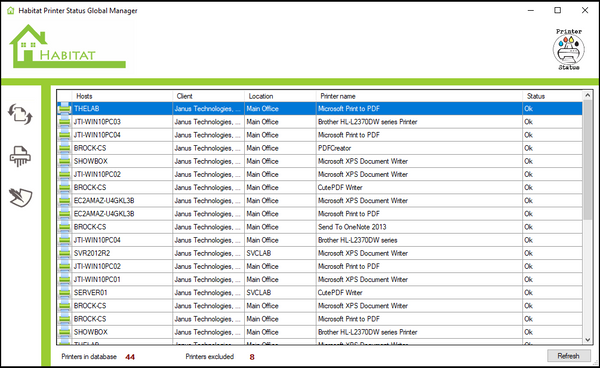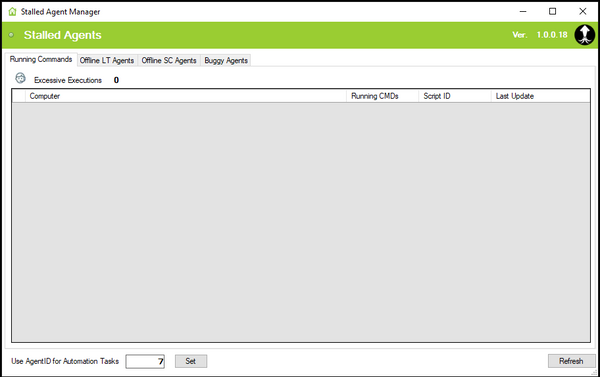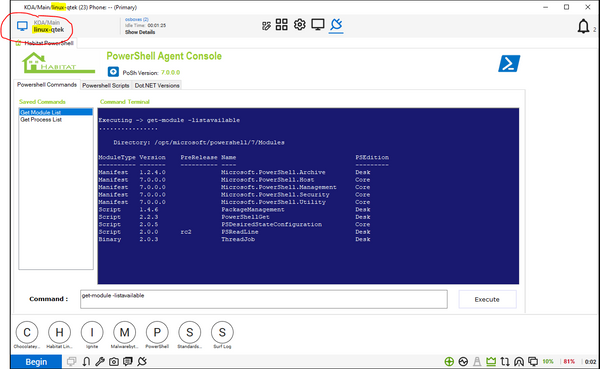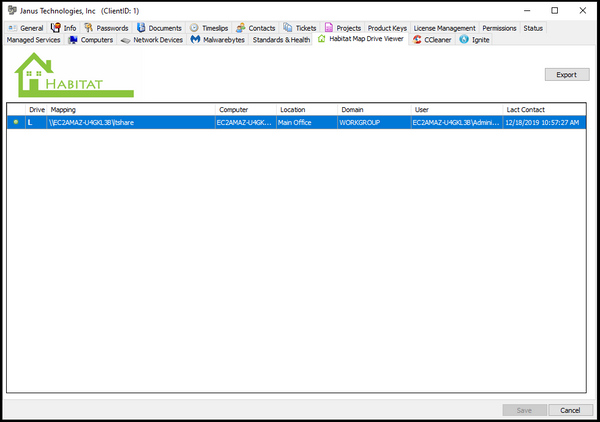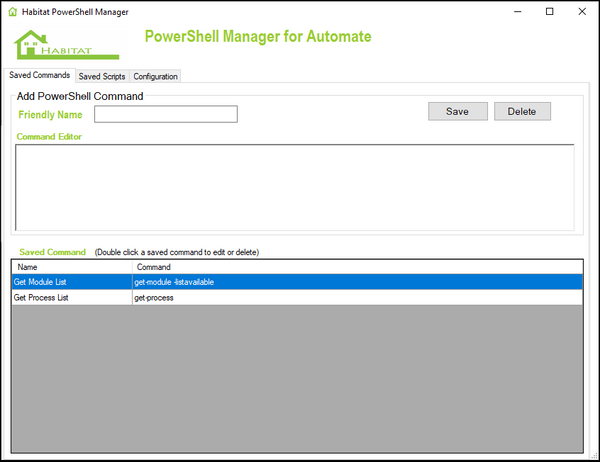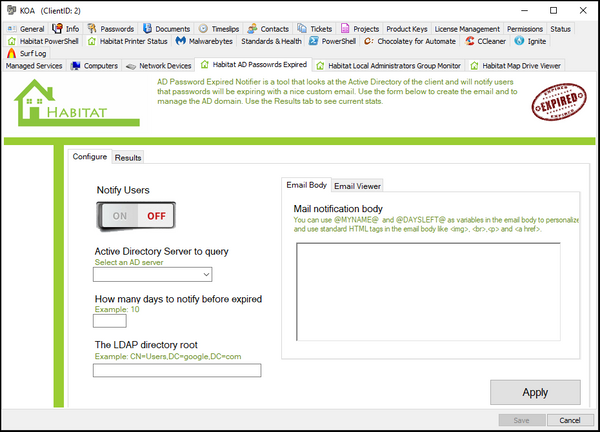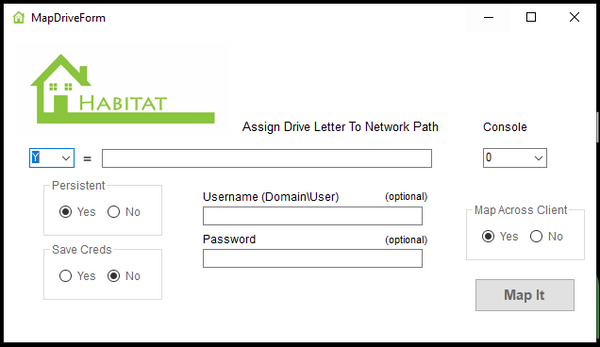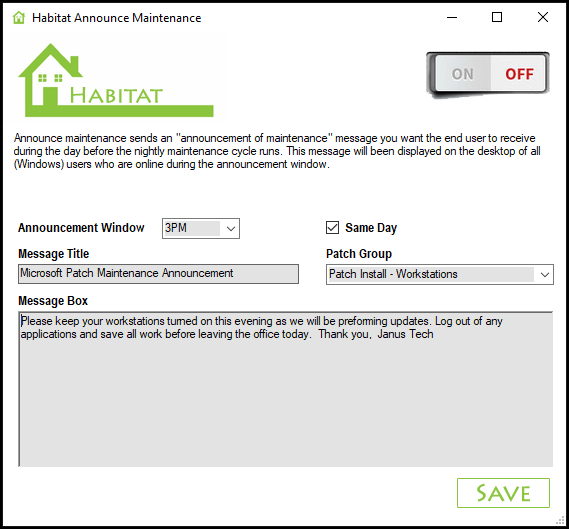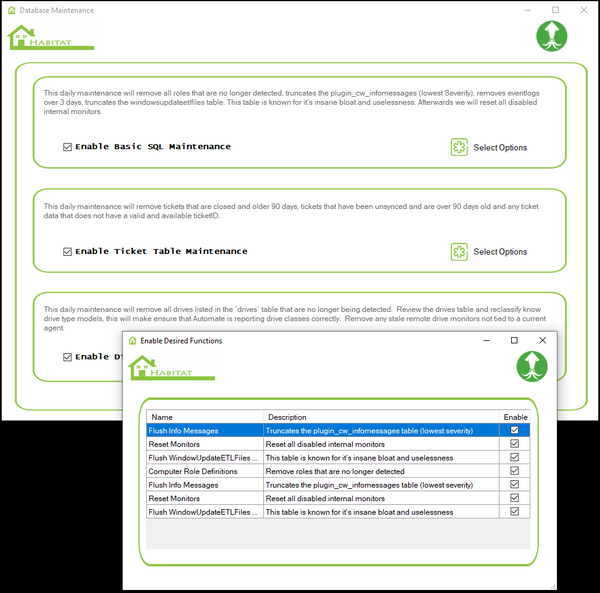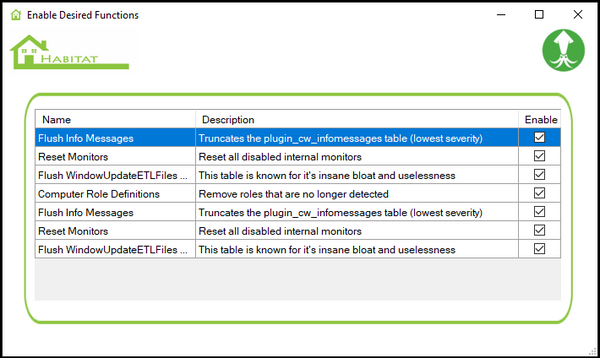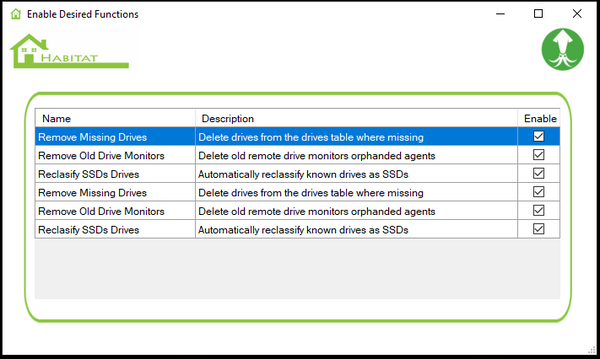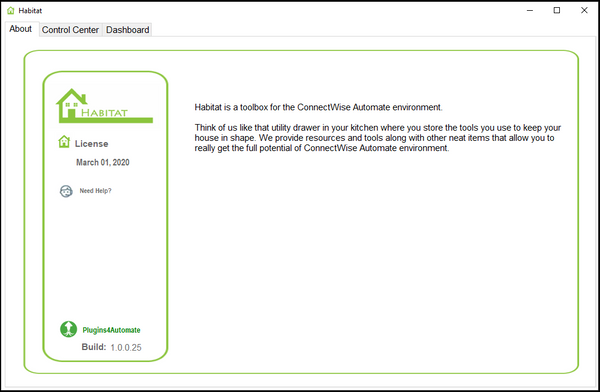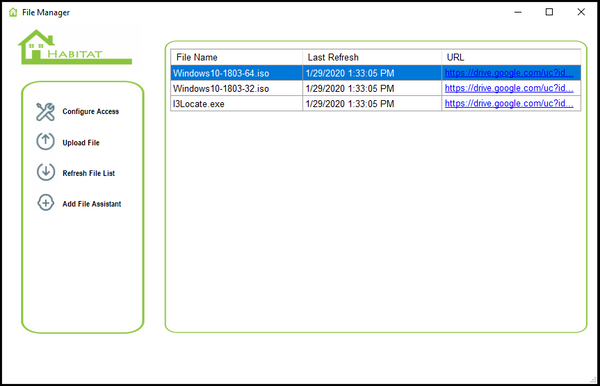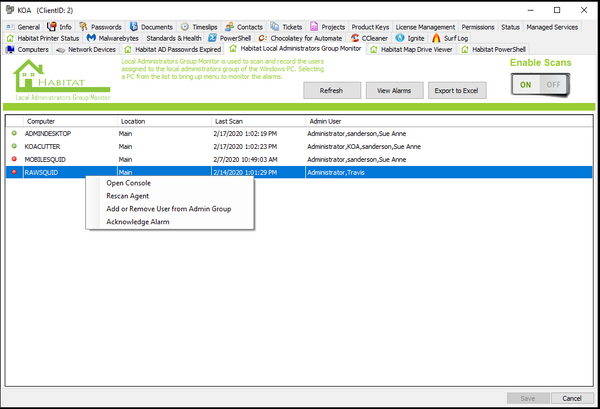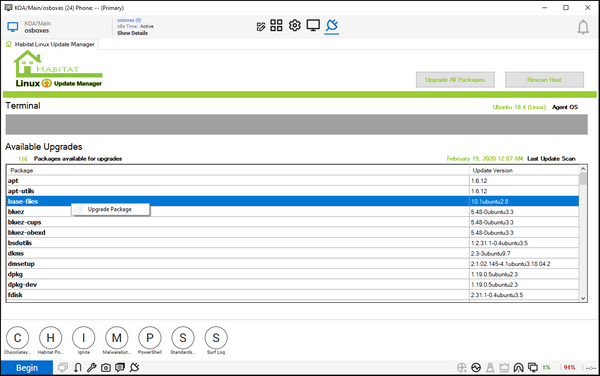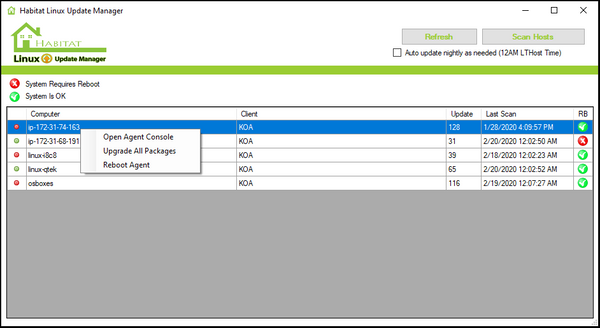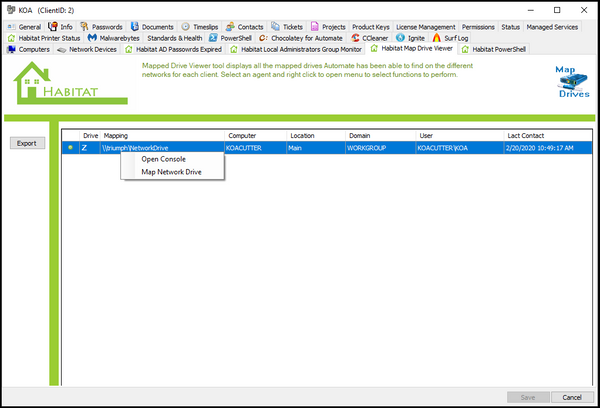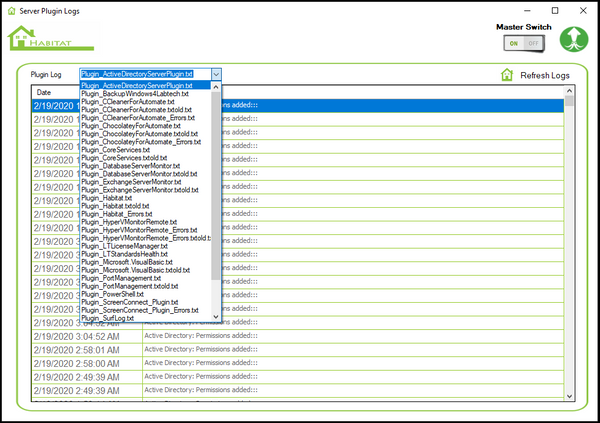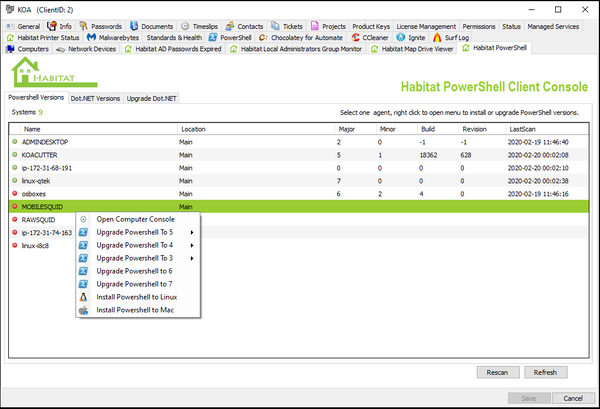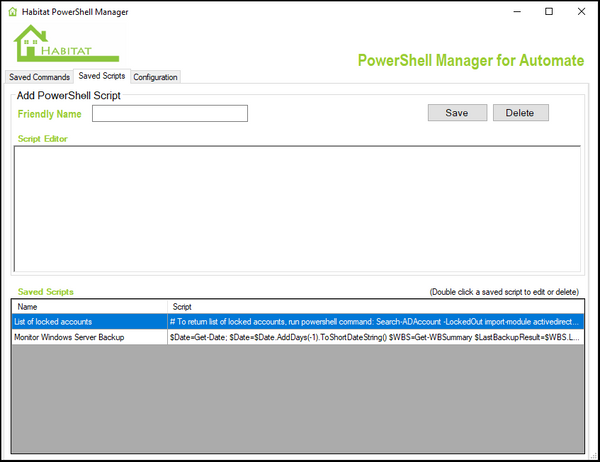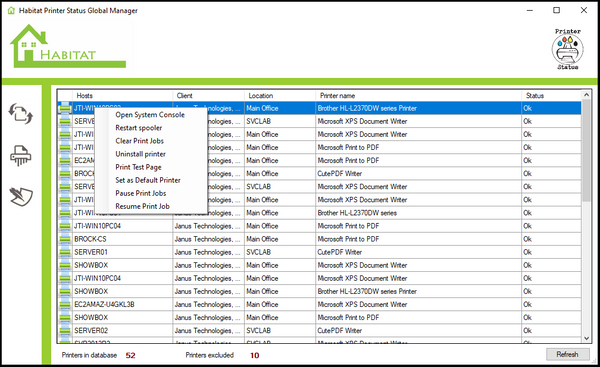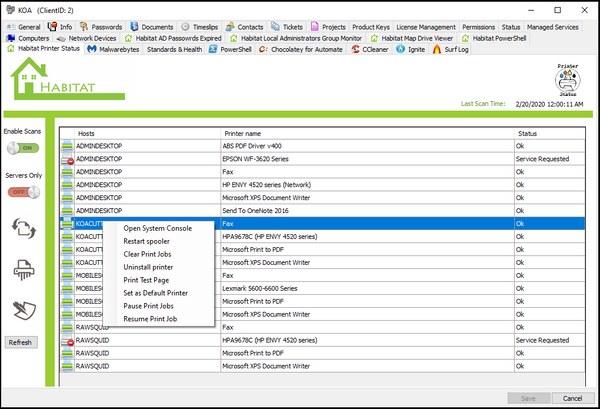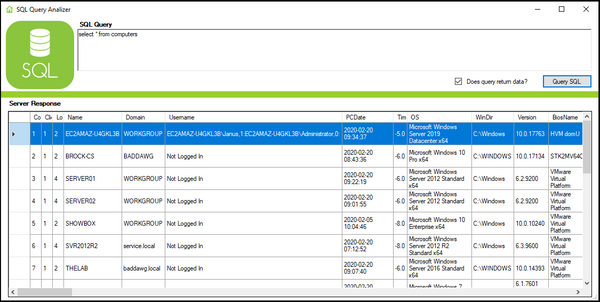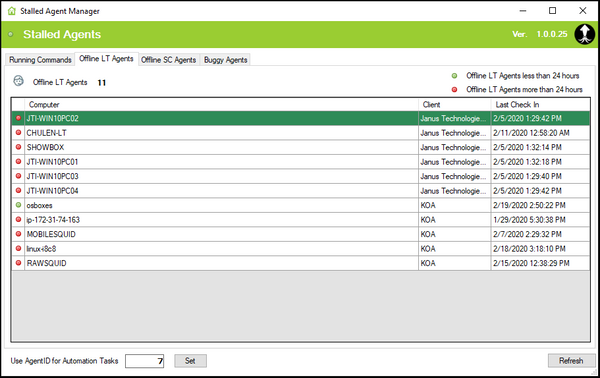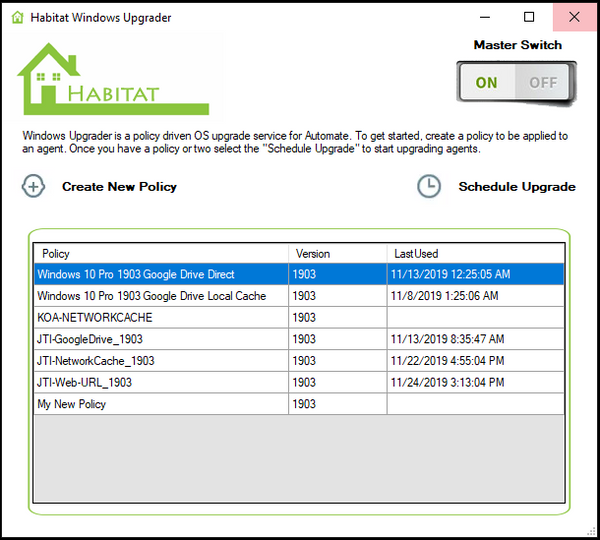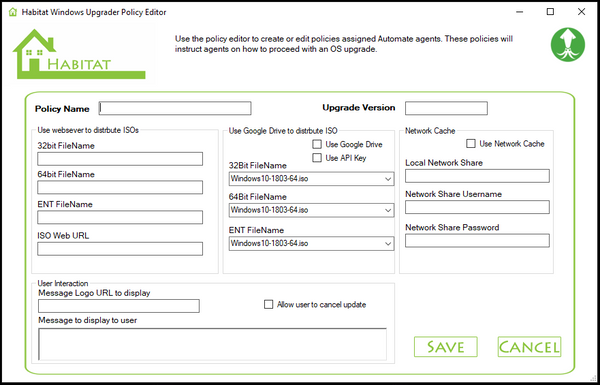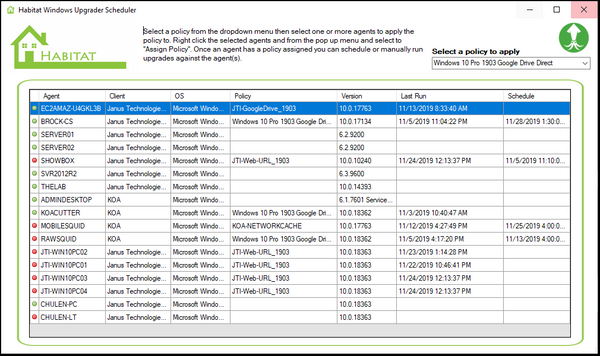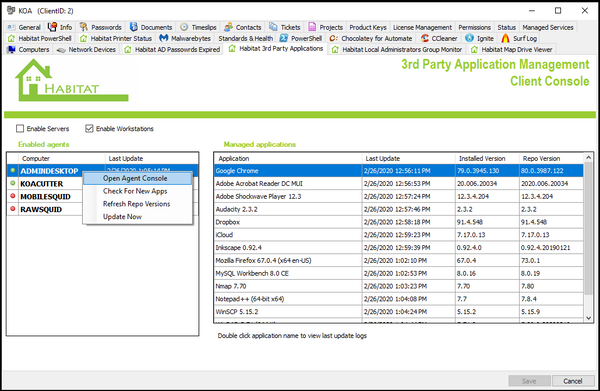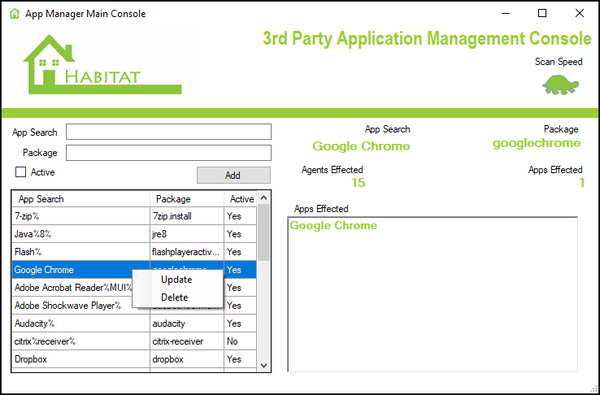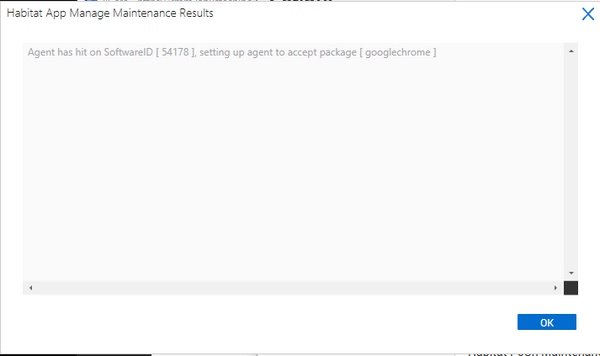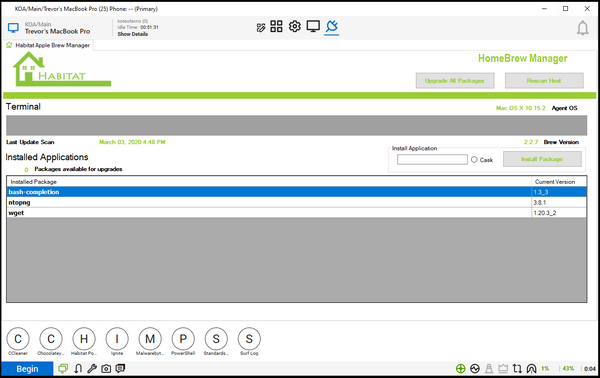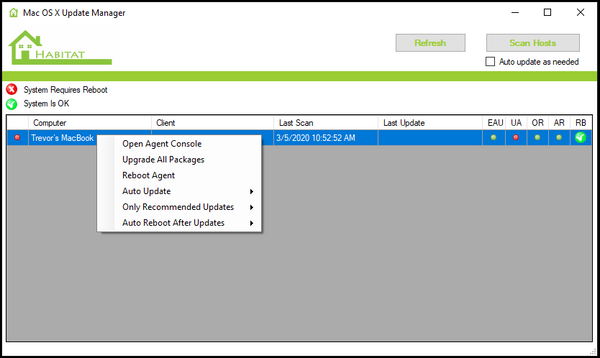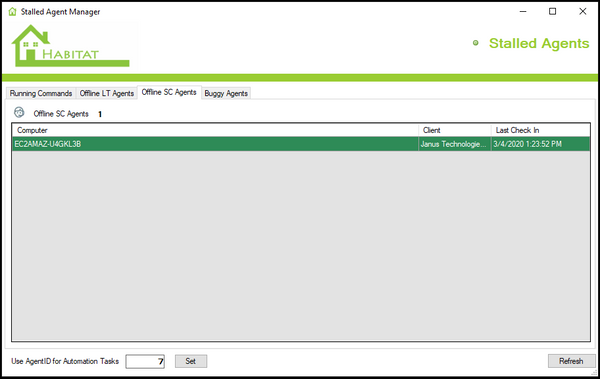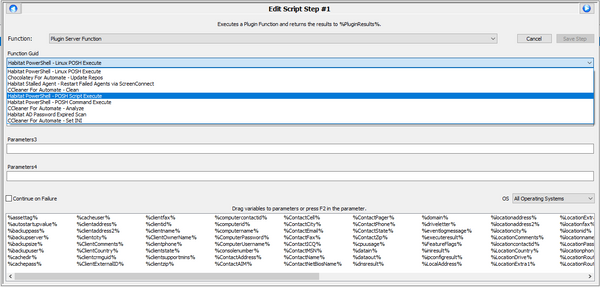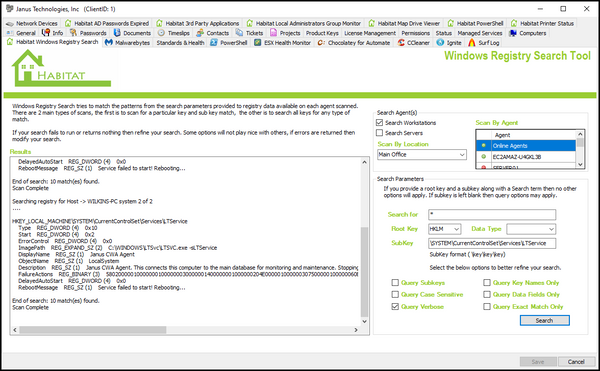 Features
The Habitat plugin is a monthly subscription software for ConnectWise Automate.
The Habitat Toolbox currently includes the following tools and features. All tools have been optimized for ConnectWise Automate 12+
Google Drive Integration
Windows Version Upgrade Assistant
Automate Server Plugin Logs Reader
Automate Database Maintenance Tool
Desktop Maintenance Announcement Tool
Mapped Drives Manager Tool
Printer Status Tool
Stalled Agents Tool
Linux Updates Manager
Quick Metrics Dashboard
Local Administrators Group Manager Tool
PowerShell and Dot.NET Management Tool
PowerShell Scripting Tool
Active Directory Expired Password Notifier
Automate Plugin Updater
Windows 3rd Party Application Management Tool
Mac OS X (Darwin) HomeBrew 3rd Party Package Manager Tool
Mac OS X (Darwin) Native Software Update Manager Tool
Habitat Server Function Editor
Complement of Plugin Server Functions for Automate Script Editor
Windows Registry Search Tool
Automate (LTScripts) Script Management Tool
Host, LMHosts, Networks, Services and Protocol File Manager Tool
Windows Backup Management Tool
Agent Status History Tool
WiFi Location Scanning Tool
Windows KB PatchMatic Tool
OS Types Tool
Microsoft Safety Scanner Tool
Microsoft OneDrive Status Monitor
Habitat Control Center
The Habitat Control Center is the heart of the plugin. This is the launching pad for most of Habitat's integrations.
Under the Control Center Tab you can find most of the integrated plugins and services Habitat offers. There are some plugins that do not need a global management console so you will find those interfaces at the Client and Agent console levels.
The Habitat Dashboard is a list of charts displaying Ticketing and Agent Status statistics.
Charts include
Closed Tickets by Tech
Open Tickets by Tech
Number of tickets by Priority
Number of tickets by Status
Hours ticketed by tech today
Hours ticketed by tech this week
Tickets open today
Tickets updated today
Tickets closed today
Alerts statuses
New agents this week
Online/offline servers
Online/offline workstations
Online /offline Linux agents
Online/offline Apple agents
Tools
Below is a current list of tools in Habitat, If you do not see something you really need then we have a feature request link below to request new tools for Habitat. Feel free to send us comments!
SQL Query Analyzer
The SQL Query Analyzer tool allows engineers to access the Automate Database with raw SQL queries and commands. In an Automate Hosted environment ConnectWise does not allow RDP access to the MySQL server which makes having a SQL Query Analyzer built into Habitat very valuable tool. Export the results to Excel with just a click of a button.
Automate Server Plugin Log Reader
This tool reads the log files from the Automate server and provides a viewer to read those logs directly from inside the Automate Console. Like SQL Analyzer, the hosted Automate services are not permitted to RDP into the Automate server so accessing these logs are next to impossible without direct ConnectWise support. This tools brings that data into the Automate console for you to consume directly.
Windows Upgrade Assistant
One of our flagship tools, the Windows Upgrade Assistant allows the MSP to setup different upgrade policies and to apply these policies to any agent inside of Automate. If you have a need to deploy Windows Upgrades to agents this is the tool for you. Setup policies by client, location or agent and for different builds or releases then apply the policies to one or more agents.
When creating a Windows Upgrade Policy you have many options including the use of Google Drive integration tool. Choose only the options you need and leave the rest blank.
You then assign the policies you created to agents and either (Run Now) or (Schedule) the upgrade push to remote agents. Come back to this view to see results and view deployment logs.
Stalled Agent Detector
The Stalled Agents Tool is widely used tool to allow you to find and fix agents that may otherwise be "Stalled". A stalled agent is an agent that has stopped checking into Automate for any number of reasons but is still online and in use. To prevent a phone call to user to reboot or restart LTagent services on the desktop you can use this tool to restart the agents directly without user intervention.
Announce Desktop Maintenance
You want to improve your patching scores? Try announcing your maintenance schedule to your end users prior to patching so they remember to leave their systems in a state ready for patchin. Often we hear that patching numbers could be improved if only the user would remember to save all work, logout and leave system running. Now you have a tool that will make that call just hours before any scheduled maintenance improving the odds you will be able to patch that agent.
Automate Server SQL Maintenance Service
Even Automate needs some help from time to time and that includes cleaning up the database to allow for better performance. We currently offer 3 SQL maintenance groups with plans for a few more.
Basic SQL Maintenance
Ticket Maintenance
Drive Maintenance
These maintenance groups allow you to enable them and to pick and choose the different tasks they will perform.
Manage all functions or add new ones with the Function Editor. Using Group Type Database Maintenance will set your functions to be executed during each database maintenance run.
Google Drive File Manager
The Google Drive integration allows you to setup and manage a google drive account in Google and to move files back and forth from Google. We store this information in Automate to use with any Scripting and our Windows Upgrade Assistant tool. You can also use these files directly inside of Automates script engine calling by name a file to retrieve the proper download URLs.
Printer Status Service
The Printer Status tool provides a valuable view into the current status of printers across the MSP's environment. See who is failing and why, find offline printers and resolve common printer problems quickly with this tool.
Global Level view of the Printer Status tool. Printer status plugin allows you to see what printers are installed on each agent in a bulk view. See printer statuses for each agent and interact with the print queues and spoolers easily with just a click inside your ConnectWise Automate systems.
Client Level view of the Printer Status tool.
Linux Update Manager
This tool adds patch management for Linux to Automate. Automate has an extensive patch engine for Windows but has left Linux behind so we created our own patch management solution for Linux. Supporting Yum, Apt-get and Zypper package managers we are able to scan and patch Redhat, CentOS, Ubuntu, Debian and OpenSUSE distros out of the box. If the Linux distro being managed uses one of these package managers our plugin should support that distro.
LUM Global Console
Get quick views into all your supported Linux systems and their current status. See when the last scans were done, if the systems are in need of reboot and how many updates are pending.
Set automated updating will have ConnectWise Automate check and update any system that shows pending updates.
LUM Agent Console
At the computer console you can force a quick scan, install a single update or select to install all updates manually.
PowerShell and Dot.NET Management Service
This tool allows you to maintain a library of scripts and commands to be used to run on the remote computers under the MSPs management. The POSH tool is very simple to use and allows you to manage POSH and Dot.NET installs and upgrade across Windows, Linux and Mac OS platforms. It is also a library of POSH scripts and commands you can create to allow your engineers quick and easy access to complicated POSH commands and scripts at the touch of a finger and to execute them effortlessly.
Save and execute complex PowerShell commands and scripts with just a mouse click. There is no need to try and remember hundreds of PowerShell commands or scripts you have crafted, with PowerShell Command Manager you are able to create and save these little jewels so your entire team can use them on any PC console inside of Automate. Make quick and easy work of managing your scripts and commands library when using the scripts and commands editors.
POSH Global Library View
POSH Client Management and Deployment View
POSH Agent Console
Execute in real time POSH scripts and Commands directly from Agent Console. When automating the installs and upgrade of Dot.NET and PowerShell. You will find EDFs that will control which agents are enabled for automated installs at the Agent consoles. Allow or prevent installs of PowerShell and Dot.NET.
Use your saved powershell commands and scripts inside Automate Scripting Editor by selecting a function from the Plugin Server Functions list. Just pass %computerid% and the friendly name of the saved script or command.
Network Mapped Drives Manager
Have you ever wished you just could see everyone's mapped drives at one time so you could see who had what mappings and where they went? Network Drives Manager allows you to manage and view all the network drives across each client.
Local Administrators Group Monitor
Many viral attacks end up trying to add or change the users in the local administrators group of an infected PC. Sometimes, these subtle changes go un-noticed and end up causing very expensive repairs and/or loss of data. Habitat will alert you to the changes, create tickets and if set to auto restore will add time to ticket and restore the admin group back before closing the ticket out.
Expired Active Directory Password Notifier
It is Monday morning, you walk into your office and the Help Desk lines are already lit up. Clients are calling with emergency lockouts and emails not coming in on their phones and computers. You know they let their passwords expire and they didn't see the desktop popup from Microsoft warning them it was coming. You now have to get busy resetting passwords to get these people back to work as fast as possible. Password expiration issues can account for up to 10% of the weekly tickets a MSP's help desk has to manage and although it only takes a minute or two to fix that time adds up. This tool helps by adding a email notification to end user (x) days before the password expires. You can embed into the email directions and links to Microsoft's online password reset tool (if available) making a password reset quick and easy for the end user.
3rd Party Application Management Tool
Habitat automates the entire process for pre-installed application management. It will seek out enabled agents and reviews their installed software. If it finds a matching software is will setup the association and start updating the software as newer packages are available. MSP can, in minutes, have thousands of agents managing the updates of hundreds of software titles. That's it nothing to deploy! Nothing to configure! No files to mess with, install it and it just works.
Mac OS X (Darwin) HomeBrew Package Manager
Habitat keeps Mac OS X packages up to date using HomeBrew package manager for Darwin agents. Deploy software, manage updates and maintain package repositories with the HomeBrew Package Manager for ConnectWise Automate.
Mac OS X Software Update Manager
Habitat keeps the Mac OS X software up to date using native update manager for Darwin agents. Deploy software, manage updates automatically with the Mac OS X Update Manager for ConnectWise Automate.
Control the automation of the MaxOS X software updates and see across all clients what Mac agents may need updates.
EAU = Enable Auto Updates
UA = Updates Available
OR = Install Only Recommended
AR = Auto Reboot After Updates (if needed)
RB = Agent Needs Rebooting (Click to reboot agent)
Windows Registry Search tool available in the client console.
The Windows Registry Search tool allows you to look for Windows registry data across the entire client or a select group of agents under the client. The search is done in real time and the results displayed in the plugins terminal for each agent the search runs against. This makes quick work when trying to see if agents are consistent in their registry data across a client or any of its locations.
Automate Scripts Management Tool
The script management tool allows you to visually see all the different scripts you have available in a single view. You can lock and unlock scripts allowing or preventing users from modifying the scripts and you can remove scrips you do not want using the Automate Script Management tool.
Host, LMHosts, Networks, Services and Protocol File Manager
This tool is used to manage all the different network files needed in a normal Windows network environment. You can create, import, modify and push any of these files back and forth to agents. The tool has two main controls, The Client Console and the Agent Console which provide you the abilities to manage the files on the end agents.
Client Console
At the Client Console you can create, edit or copy any file and then distribute that file across the client to provide unity for the client networks or choose to distribute to a select number of agents under the client making for fast deployments and changes.
Agent Console
The agent console allows you to query the agent for the current files, import the current files, edit, copy and deploy any of the files to the local agent. You can use this tool to confirm what the agents is currently using as files without the time it takes to go retrieve them manually.

Agent Status History Tool
The Agent Status History tool allows you to monitor and trend the offline status of the agents under your environment.
Agent Status Offline agents by Hour of day
Agent Status Day of the week
Windows Backup Manager Tool
The Windows Backup Tool is located under the client console in ConnectWise Automate and will allow you to manage the backups available for each Windows 10+ agent under the client. Configure daily backups or take manual backups in real time with a click of the mouse for any Windows 10+ agent in your environment including Windows services. A simple 1 click internal monitors to alert you of backup failures.
The Windows Backup Tool is a manager for the WBadmin.exe command line tool native to all Windows 10 + systems. The plugin send down the different commands available in this tool and returns the response. For you to get the most out of this tool a good understanding of the WBAdmin tool and the common issues you may find. The plugin supports all the same targets and sources the command line tool accepts to setup and perform backups.

The tool can be used to back up operating systems, drive volumes, files, folders and applications. The wbadmin utility saves the image backup in a "WindowsImageBackup" folder on the target drive. To perform all the backup tasks, an agent must have the appropriate permissions, such as being a member of the backup operators or administrator group.
WIFI Location Scanner Tool
Habitat has a Wifi scanning tool that is available at any "location" where an active agent is using Wifi.

The scanner sees the active agent and will execute a small script that takes just seconds to complete. It quickly captures the devices it sees on the active Wifi adaptor on the agent and imports them into the Automate database where we keep track them. The scanner shows you the game systems, Audio(Listening Devices), Cell phones, TV and Smart card devices, PC, switches and routers. See when the showed up on the network, if they are still on the network and when the last time we saw them on the network.

This is all useful information when you need to know how network resources at a given location are being utilized.
This view will allow you to identify what networks an agent is able to see. compare that with another agent at the same location to determine signal strength across the clients location. This is really cool when you have a client location that utilizes multiple access points providing you with a better picture of radio coverages. We also added a manual scan button along with the ability to disable the automated scans. This gives you the preference to get hourly updates or to only run when you need it, or both. Each agent that has Wifi will contribute to the Network Access Point view expanding the visibility on this tool.
The Habitat PatchMatic Windows KB Patch Manager Tool

Automate's Patch Manager does not have the options for out of band patching (patches not detected by existing agents or some Microsoft Optional patches). PatchMatic provides a means to distribute these uncommon patches and hotfixes across different versions of Windows while using policy based configurations.
The PatchMatic Library is used to store the KBs you want to deploy and is configured by KB number and OS Version.
The PatchMatic Client Console - (Status Tab) is used to enable and disable agents for automated patching and to view current status of agents KB patching.
The PatchMatic Client Console - (Config Tab) allows you to select different KB and OS versions and set a schedule for installs as agents OS versions become available at a per location configuration.
OS Types Charting Tool
The OS Types Tool provides you with a view into your environment charting Windows 10 and Windows Server OS versions across all clients. The tool counts Windows 7,8 Mac and Linux agent totals and provides a detail viewer for all agent types that you can use to quickly access the Client, location and Computer consoles.
Clicking any chart will launch viewer where you have menu options to manage the Client, Location or Agent directly.
Microsoft Safety Scanner Tool
The Microsoft Safety Scanner, formerly Emergency Response Tool is now fully integrated into ConnectWise Automate.

Microsoft Safety Scanner is a scan tool designed to find and remove malware from Windows computers. Simply Run scans to find malware and try to reverse changes made by identified threats.

Safety Scanner helps remove malicious software from computers running Windows 10, Windows 10 Tech Preview, Windows 8.1, Windows 8, Windows 7, Windows Server 2019, Windows Server 2016, Windows Server Tech Preview, Windows Server 2012 R2, Windows Server 2012, Windows Server 2008 R2, or Windows Server 2008.
Habitat allows you the MSP to automate the problems of malware across their environment away in a quick and easy tool.
The Client Console view shows each Microsoft agent and its current status by scan date. It shows the current configuration of an agent along with its current alarm status.
Automated services will scan, repair or both when configured to do so at the Client consoles.
Manage Microsoft OneDrive Directory Sync Status
View the status of the OneDrive deployments you have across all clients. Get alerts an tickets when OneDrive statuses change from being up to date.
Screenshots
Videos
Support
How to install Plugins
Here is a quick how-to install plugins on to a ConnectWise Automate System [Click Here]
So you are having some issues?
You are in the right place, Plugins4Automate is committed to making sure you get the most out of your investment so we have several support options for you
Plugin support comes in 2 flavors, operational and licensing support.
Operational Support can be anything with using a particular plugin inside your MSP's environment. Plugins4Automate's support forums are here to help you find quick answers to your questions. If you are having a problem you can post them here for our team and the community to help you with. Please visit support.plugins4automate.com. When using the support forums, make sure to post any images, logs or other supporting information to help our team assist you. This allows other MSPs that may be having the same issues insight and support from you posts. Also make sure to look over both the forum for your plugin (each has its own) and the general forum which will have support for common issues across any plugin.
License Support issues are handled by direct email, if you feel you have a issue with expired or non functional license subscriptions please send a email directly to Plugins4Automate. One of our team members will gladly work with you to get your license operational.
Need to cancel your subscription?
Click here to Cancel a Subscription